Review
ProjectManager.com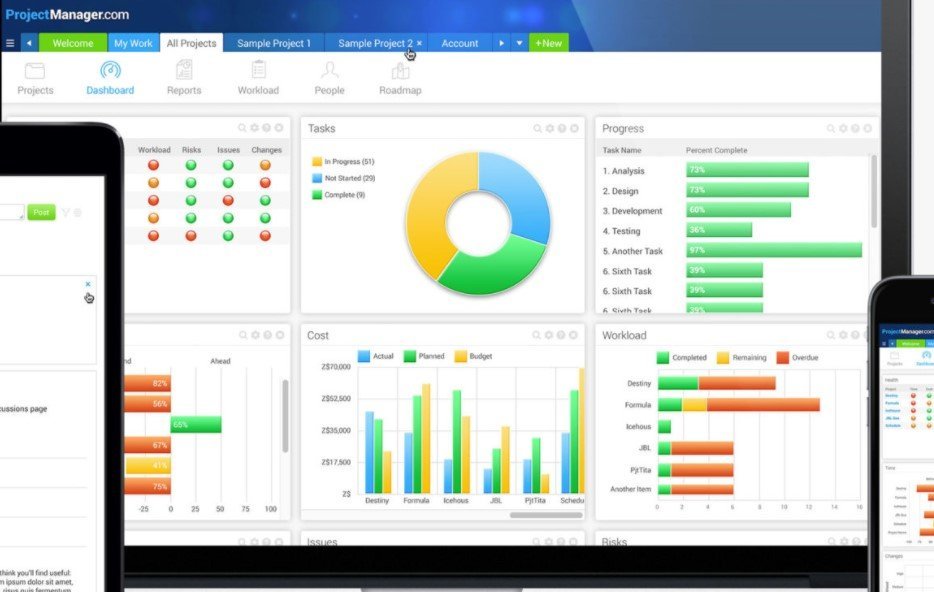 Overview
ProjectManager.com create tasks and manage projects online with your team and real-time dashboards show your status at-a-glance & automated emails let you know when your team updates their tasks.
Project Management Software
• Real-time Dashboards
• Gantt Charts
• Plans
• Scheduling
• Reports
• Task Lists
• Timesheets
• Collaboration
• Resource Management
• Resource Plans & Scheduling
• To Do Lists
Team 10 Users - $20 per user/month
Business 20 Users - $25 per user/month
Enterprise 50+ Users – Quote pricing
Small (<50 employees), Medium (50 to 1000 Enterprise (>1001 employees)
What is best?
• Chats & Discussions
• Mobile Apps
• Online File Storage
• Project Templates
• MS Project Integration
• Google & Gmail Integration
• Apps & Zaps
• API
What are the benefits?
• Customizable project dashboard
• Create, monitor and share your project plans online, with multiple views
• Export and share your reports as a PDF, Word or Excel file.
• Task Management
ProjectManager.com's online project management solution lets the users manage their projects anywhere and on any platform from a desktop, Apple or Android devices.ProjectManager.com's award-winning engine combines powerful project planning and scheduling features with collaboration tools for teams to plan large or small projects on the interactive Gantt chart.
Users can adjust due dates with easy drag and drop scheduling. ProjectManager.com's Task updates makes it easy for the users' team to view their tasks, update their progress and collaborate together where anyone can add comments or files to tasks to keep important project communications together. Users can chat with the whole team or create group discussions based on projects, departments, or any topic they choose even via ProjectManager.com's mobile or tablet app. Users can get project and resource management in one, with ProjectManager.com's powerful resource allocation and workload management tools where the users can see who's available and who is overloaded in one easy, color-coded view to track holidays and hourly availability.
ProjectManager.com's integrated timesheets lets the users manage time and timesheet approvals with their team. Tasks are also updated in real-time throughout the system, so the users' team can import their hours worked on individual tasks in one simple click. ProjectManager.com's real-time dashboards instantly show the status of all the users' current projects where users can track costs and team progress across all their projects. Users can further create one-click reports to track data on their projects, tasks and teams to print or share online in their next meeting.
You may like to read: Free & Top Task Management Software, Top Retail Task Management Software and How to Select the Best Task Management Software for Your Business