Review
Princeton University, Master in Finance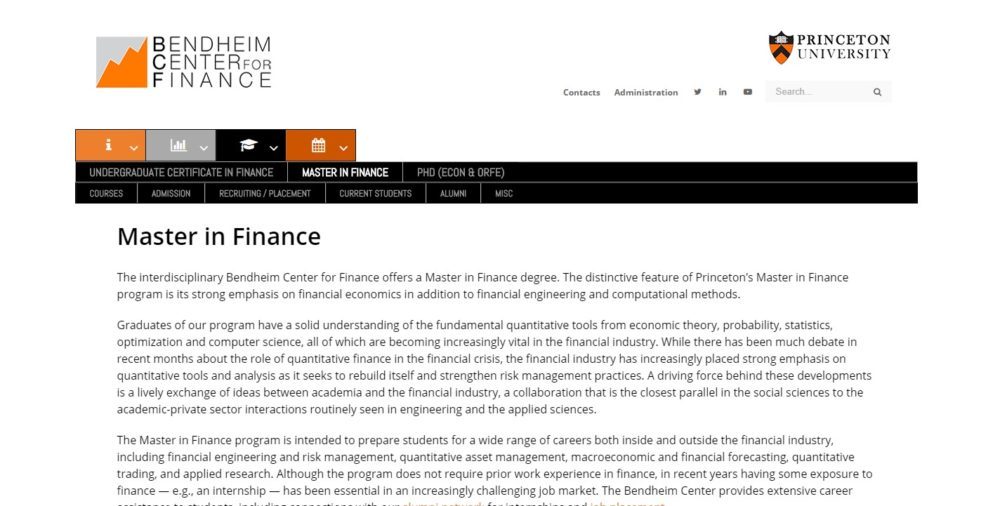 Overview
The interdisciplinary Bendheim Center for Finance offers a Master in Finance degree. The distinctive feature of Princeton's Master in Finance program is its strong emphasis on financial economics in addition to financial engineering and computational methods.
• 2 or 4 semesters
• 5 core courses
• 5 elective courses
• Math and boot camps
• Master's research project
What is best?
• 5 elective courses
• Math and boot camps
• Master's research project
What are the benefits?
• Students develop a research network where they study interactions between monetary, financial, and fiscal stabilization.
• Employment and internship opportunities.
• Access to all research authored at BCF
Princeton University offers the Master in Finance (MFin) program through the Bendheim Center for Finance. This program focuses on financial economics, financial engineering, and computational methods. Students of the MFin program acquire extensive knowledge in fundamental quantitative tools ranging from economic theory, probability, statistics, optimization, and computer science. This knowledge is becoming more and more crucial in today's financial industry. The skills gained in this course will play a big role as the financial industry reconstructs itself and strengthens risk management practices after the great recession. This program has been designed in response to calls for new structures to study macro-prudential policy tools to design a new international financial architecture. The MFin program is designed to train students for a wide range of careers both inside and outside the financial industry. Topics studied in this program include financial engineering, risk management, quantitative asset management, macroeconomic, financial forecasting, quantitative trading, and applied research. The curriculum can be completed in two or four semesters. The duration is determined by students' advanced knowledge of the field, aptitude, work experience, and job offers upon graduation. The core courses of the Master in Finance provide students with analytical fundamentals of modern finance, both theoretical and empirical. In addition, the program will offer students the opportunity to choose among a variety of elective courses that provide a broad survey of topics and techniques of modern finance. Students taking the MFin program benefit from annual corporate programs. Students also benefit from assistance that Bendheim Center of Finance offers as it provides extensive career services to students, including connections with a large alumni network for internships and job placement. The MFin program brings in combined strength of the different departments at Princeton University.