Predictive Analytics Visualizations for Actionable Insight into Lead Generation Programs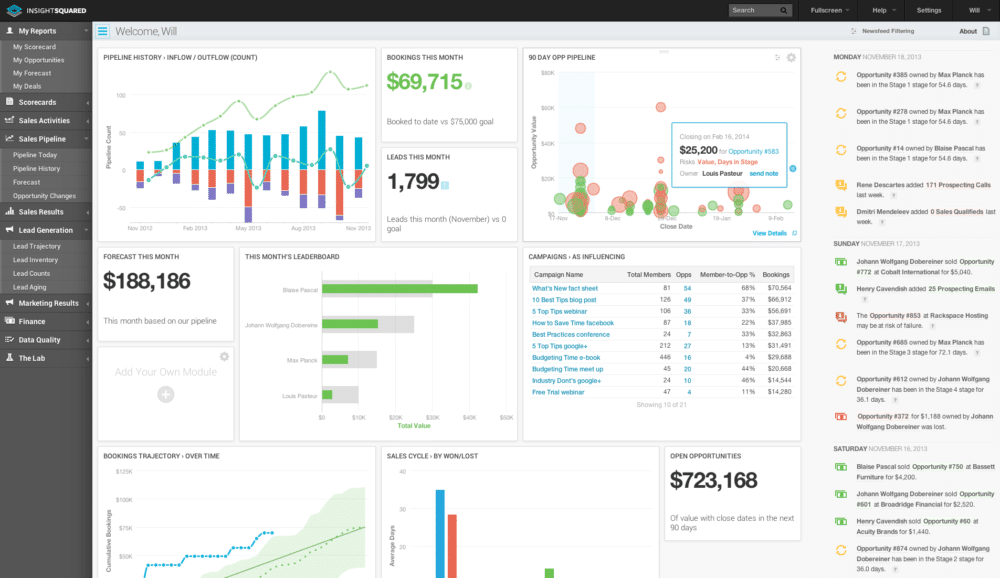 Infer and InsightSquared, will deliver new dashboards that visualize key predictive insights to help business-to-business marketers make the leap from being simply data-driven to being fully predictive-driven. Many companies have only murky visibility into their sales pipeline, and can't measure marketing campaign performance until it's too late to make adjustments. With Infer's statistically accurate customer conversion predictions visualized in several of InsightSquared's most popular reports, businesses can better monitor the health of their sales and marketing operations. Marketers can use these reports to determine how well their demand generation programs are fueling growth, while sales teams can use them to better align effort to impact through continuous lead management.
"InsightSquared helps companies measure their sales performance, spot trends, prevent looming problems and guide decision-making by giving sales and marketing leaders, along with the operations teams that support them, visually stunning dashboards that enable them to run smarter sales and marketing operations. By using Infer's signals within InsightSquared, executives can take their dashboards to the next level and keep a pulse on things like whether reps are spending their time on the leads with the highest close potential," said Vik Singh, co-founder and CEO of Infer. "A cornerstone of our strategy is to infuse predictive intelligence into best-of-breed tools so they can unlock even more value for marketers, and today's partnership is a great addition to the many specialized applications in Infer's ecosystem."
New InsightSquared Infer reports include Activity Scorecard – "How are different quality leads getting worked?" By associating sales rep activities with specific lead score cohorts, this report gives sales and marketing leaders the insight to help their reps prioritize top leads.
Lead Aging – "Are our best leads getting overlooked?" By filtering 'unworked' leads by Infer score, this report lets leadership quickly zoom in on high quality leads and ensure that no good lead gets left behind.
Lead Funnel – "How do different quality leads perform in the funnel?" Visualizing stage-by-stage conversion rates for each lead score cohort, this report tracks the number of each type of lead or contact in the funnel so that sales leaders can better predict their pipeline and expected win rates.
Lead Yield – "How successful are we at converting different quality leads?" By analyzing lead-to-opportunity cycles quarter over quarter and filtering by Infer lead score, this report helps teams better understand how lead quality affects funnel velocity.
You may also like to read, Predictive Analytics Free Software, Top Predictive Analytics Software, Predictive Analytics Software API, Top Free Data Mining Software, Top Data Mining Software,and Data Ingestion Tools.
Top Predictive Lead Scoring Software, Top Artificial Intelligence Platforms, Top Predictive Pricing Platforms,and Top Artificial Neural Network Software, and Customer Churn, Renew, Upsell, Cross Sell Software Tools
More Information on Predictive Analysis Process
For more information of predictive analytics process, please review the overview of each components in the predictive analytics process: data collection (data mining), data analysis, statistical analysis, predictive modeling and predictive model deployment.