Preact and Marketo Partner to Predict Customer Behavior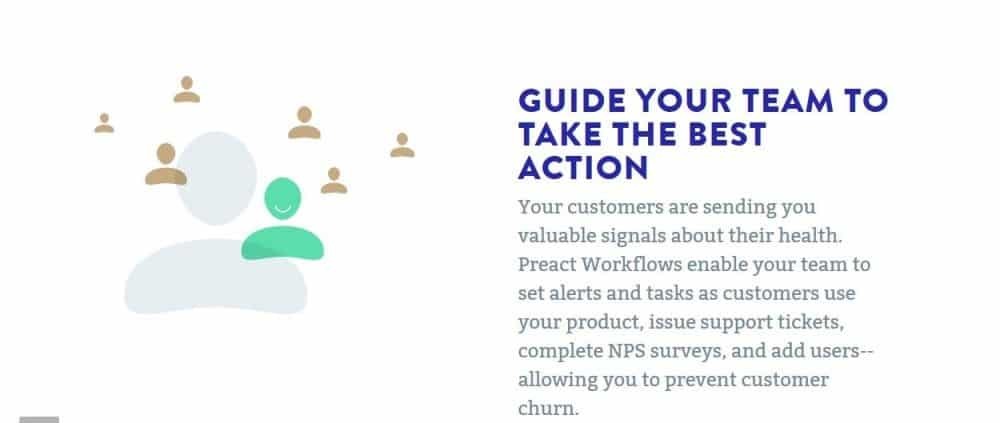 Preact and Marketo Partner to Predict Customer Behavior : Preact, the leading customer success service, announced today that it joined Marketo LaunchPoint™, the most complete ecosystem of marketing solutions. The Preact integration for Marketo MKTO, -1.56% the leading provider of marketing software, will allow marketers to target customers based on their likelihood of upgrading, renewing or canceling services. Preact uses behavioral science, machine learning and big-data analytics to predict which customers are prime for upselling, conversion or churn. The solution tracks usage of web-based and mobile products to detect patterns. By presenting both quantitative data science and qualitative risk factors, Preact provides a complete picture of each account. In addition, Preact can help companies improve product quality and customer support by revealing which features are 'sticky' and which ones cause problems.
In Marketo, the Preact integration will allow marketers to target customers based on their Health Score, Activity Score, Priority Score, and other metrics that reflect user behavior patterns. Marketers can also automate communications that are triggered by specific actions such as using a dashboard for the first time or viewing the upgrade page.
By communicating with customers based on their usage patterns, marketers gain unprecedented opportunities to prevent cancellations, increase upsell and provide outstanding service. Overall, the integration makes it easy to analyze customer behavior, make decisions and take action within Marketo.
"Preact is for SaaS businesses that are eager to retain their customers and evolve their products to provide the best experiences possible," said Mike Saldi, Chief Customer Officer of Preact. "By integrating with Marketo, we make it easy for marketers to easily bring the power of customer analytics to everyday communications. It's a whole new way to build longer lasting relationships."
Marketo LaunchPoint™ is the most complete ecosystem of marketing solutions. It's not just a place for technology integration; it is a system of resources that brings the best technology, expertise and customer experience together, so marketers can drive better results in less time. LaunchPoint™ includes some of the world's most innovative, best-of-breed marketing solutions, spanning all areas of marketing including: analytics and big data, content marketing, events and webinars, lead data, lifecycle marketing, online ads & campaigns, sales tools and social media.
"Marketo is committed to an open platform so that companies have the maximum flexibility to choose the best marketing technology solutions for their business," said Lou Pelosi, Sr. Director of LaunchPointä at Marketo. "We're excited to have Preact join LaunchPoint™ so our customers can choose this innovative solution to work alongside Marketo's engagement marketing platform and help them build long-term relationships with their customers."
About PreactPreact is a cloud-based, automatic customer success service that helps subscription software companies maximize customer lifetime value by reducing churn, acquiring new customers and increasing revenue. Preact generates health metrics for each user and account by tracking detailed session-level usage. It uses big data analytics, behavioral science, and machine learning to detect patterns and predict which customers are likely to churn, renew or upgrade. The engine then generates specific recommendations of actions businesses can take in response. Founded in 2012, Preact is based in San Francisco and funded by Trinity Ventures and other leading venture capital firms.