Pitney Bowes Commerce Cloud Enable the Full Continuum of Commerce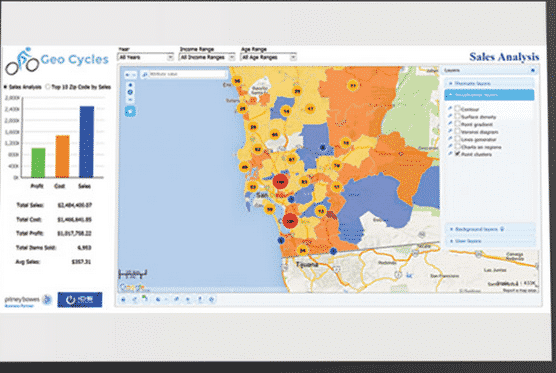 Pitney Bowes announced the launch of the Pitney Bowes Commerce Cloud, a commerce enabler that provides access to solutions, analytics and APIs across the full commerce continuum with speed and agility to help clients identify customers, locate opportunities, enable communications, power shipping from anywhere to everywhere, and manage payments. Businesses of all sizes can now securely access – either through PCs, mobile devices, connected metering devices, or via APIs – a full range of shipping, mailing, ecommerce, location intelligence, customer information management, customer engagement and payment solutions that simplify and enable all forms of commerce innovations via the Pitney Bowes Commerce Cloud.
Pitney Bowes launched its revolutionary SendProTM office shipping applications, which simplify the sending of parcels and flats. These new cloud-based office shipping tools allow businesses to manage multi-carrier shipping operations online, including the U.S. Postal Service, FedEx and UPS, and provide the information needed to select the best option for each item based on service level and price. The SendPro solution is the first cloud-based multi-carrier office shipping solution in the market. With the SendPro solution, small and medium businesses can now cost-effectively access via the cloud the same technology that supports large shipping companies and online retailers.
The SendPro solution illustrates the power and flexibility of the Pitney Bowes Commerce Cloud. It is delivered as a SaaS solution to PCs and desktops; as a mobile app to tablets and more than a quarter billion devices on Windows 10 and the Window Store; and via Pitney Bowes' SendPro P Series mailing and shipping solutions, which integrate hardware and software in a single product that drives efficiency and delivers accountability and tracking in the mailroom. It also utilizes other Pitney Bowes cloud-based capabilities such as address validation, which delivered about 1 billion address validations and updates to Pitney Bowes clients via the cloud in the last 12 months.
The SendPro solution also takes advantage of Pitney Bowes Purchase Power financial services capabilities, which are now available as part of the Pitney Bowes Commerce Cloud, and will be made available as public APIs later in 2016. Purchase Power enables USPS parcel payments and enables clients to earn free shipping through the Pitney Bowes Rewards program. This payments' solution further simplifies sending by consolidating billing and payments for all of a client's sending activity across multiple carriers.
Pitney Bowes is launching a series of APIs available in a self-service portal to help both commercial and corporate developers, as well as clients, enrich their mobile and Web applications. This portal will also host resources to develop, deploy and manage the creation of new applications based on its location intelligence and shipping technologies, such as geodata (address, demographic and location-based information), which can be incorporated into everyday applications, business processes and workflows.
Pitney Bowes will utilize the unique combination of capabilities the company has available as part of its digital assets in the areas of customer engagement, location intelligence and customer information management.
Pitney Bowes leverages the AWS Cloud to accelerate the migration of product development, testing and mission-critical production applications through the Pitney Bowes Commerce Cloud and AWS Marketplace. Pitney Bowes has launched seven products in AWS Marketplace for Location Intelligence and Customer Information Management. Pitney Bowes also created a "Cloud Center of Excellence" providing access to available tools and technology from AWS. The Center of Excellence will help create new enterprise transformation solutions provided by Pitney Bowes leveraging the AWS Cloud.