Review
Pennsylvania State University, Master of Professional Studies in Supply Chain Management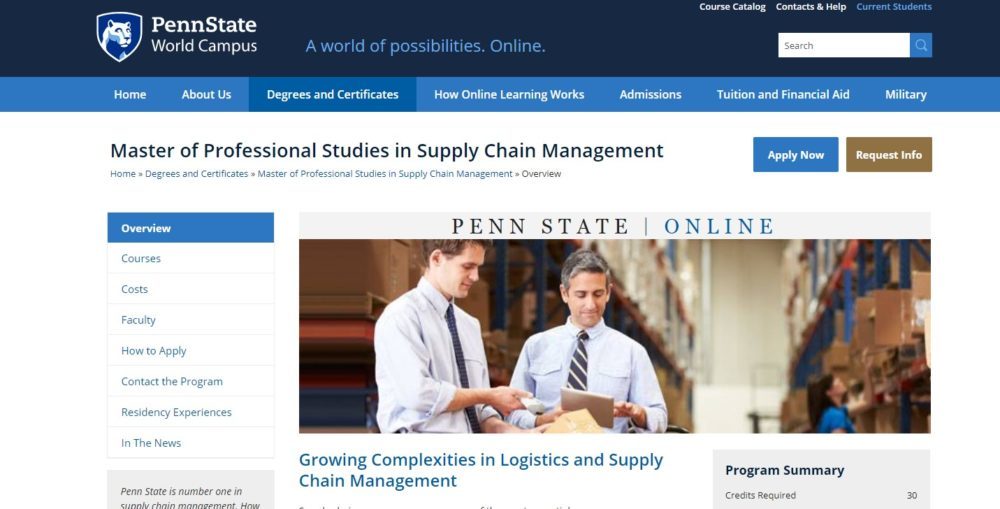 Overview
The Master of Professional Studies in Supply Chain Management degree program is designed for professionals who want to attain an advanced degree while continuing to work for their respective organizations. Although many individuals in the program have supply chain experience, the program is also appropriate if your education and/or experience may be in disciplines such as the sciences, engineering, or the liberal arts.
Supply Chain Masters Programs Online
• 2-year program
• 30 credits
• Online courses, part-time
• Experienced faculty
• Interdisciplinary curriculum
• Four-day campus residency
Master of Professional Studies in Supply Chain Management
Approximately $26,000 to $35,000
What is best?
• Online courses, part-time
• Experienced faculty
• Interdisciplinary curriculum
• Four-day campus residency
What are the benefits?
• Align with your busy schedule wherever you are in the world
• Learn from top-ranked faculty and their research-driven insights
• Understand and apply supply chain analytics
• Effectively design and manage an efficient supply chain
• Apply project management techniques in a logistics context
• Understand the implications of supply chain initiatives based on financial performance metrics
• Add one of the most respected names in higher education to your resume
Master of Professional Studies in Supply Chain Management program is taught at the internationally ranked Penn State Smeal College of Business, which has a remarkable history of producing graduates who proceed to have successful supply chain careers. The program is offered on an online platform designed to provide the convenience and flexibility that working professionals around the world need, so they are able to continue working while advancing their supply chain career. A master's degree in supply chain management gives you advanced skills and abilities that enable you handle, collectively, the people, processes, and technologies required for world-class integrated supply chain management. This Master's program features highly relevant course content that helps you develop practical supply chain skills to prepare you for a prosperous supply chain career. To earn this online Master's degree, students are required to go through a 30-credit graduate program that can be completed in two years on a part-time basis. Students taking this degree program study proven theory, industry best practices, and new technologies in supply chain management. This master's degree curriculum provides an in-depth understanding of today's sophisticated supply chain as well as how to manage these supply chains to improve efficiency and give your organization a competitive edge. Graduates of this program are able to advance a business's goals through integrated supply chain planning and execution based on their learned knowledge, problem-solving skills, and leadership techniques. In addition, each course in this program includes small-group projects that let students interact freely while building an online learning community. These projects simulate real-world business environments, where individuals frequently work in small teams to solve problems. All the courses in this program are offered entirely online except for a four-day residency in the University's Park campus in August after the first year of study.