Paxata Adaptive Data Preparation platform for the enterprise partner with Cisco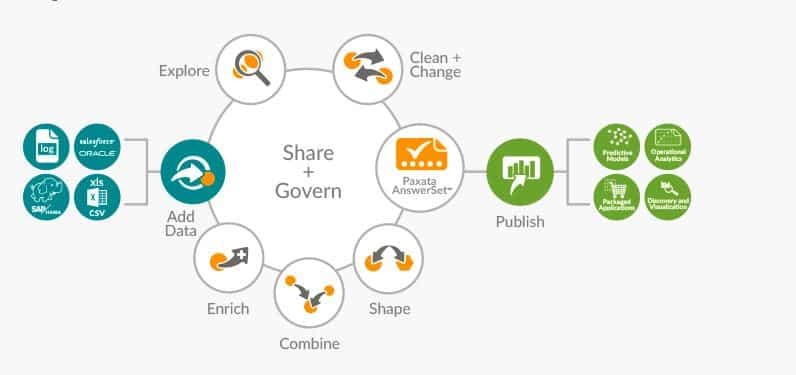 Paxata Adaptive Data Preparation platform for the enterprise partner with Cisco: Paxata announced a strategic relationship with Cisco which includes a jointly-developed solution, Cisco Data Preparation. Powered by Paxata, the Cisco Data Preparation offering is a complete software, hardware and services solution leverages an easy-to-learn and use Excel-like interface and powerful machine intelligence algorithms from Paxata, Cisco Data Preparation removes barriers to adoption and elevates business analysts' skills. Two-way integration with Cisco Data Virtualization helps leverage prior IT investments and closes the gap between the business and IT. The Cisco Data Preparation solution is built on a massively scalable Hadoop and Spark-based architecture which ensures that Cisco customers won't be constrained by the size of data sets or complexity of analysis.Cisco Unified Computing Systems (UCS) Integrated Infrastructure for Big Data integrates the computing, storage, connectivity, and unified management capabilities needed for high-performance, high-reliability Cisco Data Preparation operations.Plus a complete set of Cisco and Partner provided "Plan" and "Build" services ensure Cisco Data Preparation implementation success.
"We are delighted to partner with a world-class organization like Cisco as we continue to fulfill our vision to bringing Adaptive Data Preparation to every analyst in the enterprise," said Prakash Nanduri, Co-founder and CEO of Paxata. "As a key pillar in Cisco's broader Big Data and Analytics portfolio, Paxata will expand Cisco's reach by bringing data preparation to a much larger business-facing audience leveraging a state-of-the-art Big Data processing platform that meets IT's requirements for scale and governance. Additionally, the joint value proposition of Paxata's platform running on Cisco's UCS hardware completely changes the economics of computing in the data center in a truly disruptive way."
While Cisco Data Preparation is sold as a standalone offering, it is ideal for Cisco customers who have invested in Cisco Data Virtualization, Cisco Connected Analytics, Unified Computing Systems and data center investments who want to take a major step forward in their business agility journey.
Paxata's platform provides an interactive, analyst-centric data prep experience powered by a unified set of technologies designed from the ground up for comprehensive data integration, data quality, semantic enrichment, collaboration and governance. Information-driven organizations who want to make data worth analyzing use Paxata to explore, clean, shape, and combine all the data they need into rich AnswerSets which power ad hoc, operational, predictive and packaged analytics.
Paxata's platform, built on Apache Spark and optimized to run in Hadoop environments, leverages distributed computing, machine learning and a dynamically visual workspace that promotes transparent governance and ad hoc collaboration. Paxata data prep, powered by IntelliFusion, is designed to eliminate the need for coding, scripting and sampling. The solution is available as a service, and can be deployed in AWS virtual private clouds or within Hadoop environments at customer sites.