Review
ParishSOFT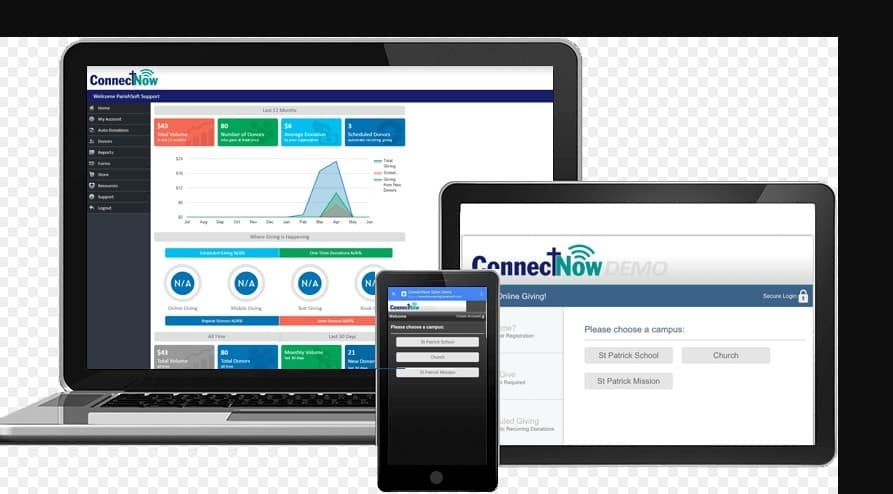 Overview
ParishSOFT provides church management software to streamline your operations, foster collaboration and improve communication. Our church software is designed to help Catholic churches, dioceses, and other organizations become more effective in their ministry and to save time and money.
Church Management Software
• Reporting
• Backup and restore
• Offering Module
• Quick Entry Contribution Posting Process
• Family Directory
• Religious Education Program
• Tuition
• Ministry Scheduler
• Intelligent Query
• Facility Scheduler
• ConnectNow Giving
Small (<50 employees), Medium (50 to 1000 Enterprise (>1001 employees)
What is best?
• Family mailing list
• Activities and skills
• Personal profiles
• Visitation
• Attendance
• Ministry services
• Pledges
• Fund accounting
• Account payable
What are the benefits?
• Retain Existing Records
• Remote Training for Staff
• Swift, Easy Transition
• Professional Tech Support
• Simple Data Migration
• Permanent Backups
ParishSOFT data management is a software solution that is designed for churches. The integrated software product has a shared database with everyone in the room, and they can use it to access up-to date information they need. It has proven security protocols that ensure that only an authorized user can only access all the data.
The packages are supported by web-based and desktop accounting systems which include AP, GL, and Payroll. It has a fund account that has about five chart segments, and the reports are flexible while providing a detailed fund reporting. The web-based system is easy to use, cost-effective and it meets the emerging need for security and portability.
ParishSOFT allows you to purchase the precise modules that you need, and it saves money and time by making your administration efficient and comfortable. You can run any software application of ParishSOFT anywhere, anytime, and it includes helping you to manage your updates, backup, and hosting.
The entire software product includes comprehensive and webinar training programs which help you to get up and running immediately. And they have technical support staff that you can call if any issues arise. ParishSOFT hosts your applications and database in its center, and it gives you access to the enhancement and its latest features without the need to update the software on your computers. They automatically back up your information. The software allows you to be productive and make essential decisions whenever and wherever you may be without staying glued to your computer.