Review
PandaDoc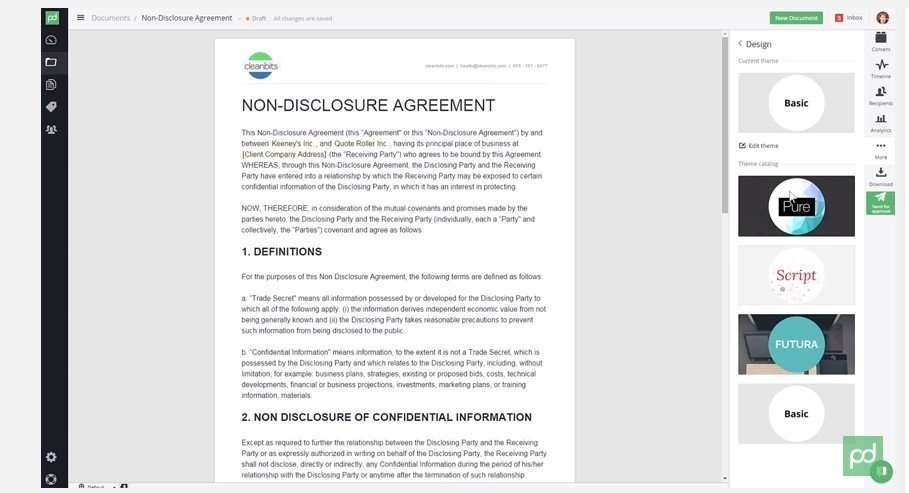 Overview
PandaDoc is the easiest-to-use business document processing and electronic signature app. PandaDoc allows you to turn any boring document into an interactive document, where you know exactly when someone opens, comments on and signs a document, even knowing who is spending what time looking at each section.
· Document Assembly
· Configure, Price, Quote
· Electronic Signing
· Document Analytics
· Deal Room
· Workflow Automation
· Electronic Signatures
· Sales Enablement Software
· Proposal Software
Free 14 day trial. Starting at $19 per month. Contact for more pricing details.
Small (<50 employees), Medium (50 to 1000 Enterprise (>1001 employees)
PandaDoc is a great addition to any business with its many features and flexibility. PandaDoc is basically a web-based application that allows users to create, deliver, and share documents online and place their legally binding signatures for faster paperless transactions and processes. The system supports various document forms including PDFs, Docs, and other pre-existing digital documents.
It works well with quotes, contracts, agreements, and other sales collateral. There has been a 15% increase in average contract value with PandaDoc, one hour saved per week per employee and a 10% increase in close rate. PandaDoc is the future of document managing.
Make sure to use PandaDoc to automate contracts, proposals, quotes, and more. PandaDoc helps users accelerate the creation of documents with templates and preset content blocks. The system comes with various templates for all kinds of business documents including proposals, contracts, and quotes. You also get a central catalog where you can place all your products and services.
This allows you to make quoting faster, simpler, and error-free. Document analytics lets you identify how your customer reacts with your document and determine their behavior. As PandaDoc allows you to place legally binding electronic signatures on online documents, you can close deals faster than ever. Customizing documents is also a breeze as you can configure content blocks, modify templates, and add images, pricing tables, and forms with ease and speed. On top of that, you can also customize workflows to speed up approval processes. Promote any business by utilizing the benefits of the digital world with PandaDoc.