Review
Package 'support.CEs'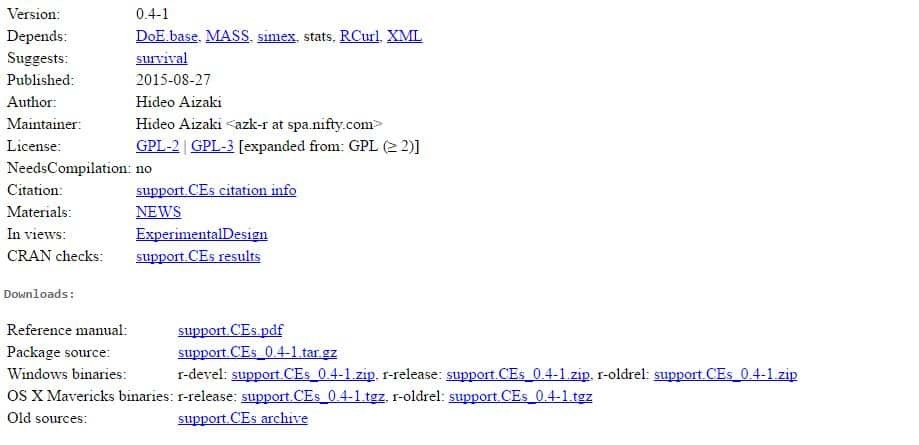 Overview
The package support.CEs provides seven basic functions that support an implementation of choice experiments.
Conjoint Analysis Software
McFadden R square
Conditional Logit Model
Generalized Linear Model
Small (<50 employees), Medium (50 to 1000 Enterprise (>1001 employees)
https://cran.r-project.org/web/packages/support.CEs/
Package Support.CEs fundamental functions provide a supplementary and supportive aid to choice supports implementation by moving choice experiments from concept to reality. Seven essential functions are included in the package support.CEs viz: two functions that offer simple approach to deciding and choosing a specifically optimized design with simple to compound factors via the basic information for orthogonal main effects design. Array needed to generate designs can be selected upon request; multiple designs and randomly generated design can all be accessed.
With this module, Choice experiment design can be converted into questionnaire format and binary choice model analysis, using the function glm in the package stats: versions 0.3-0 and subsequent versions of this package supports binary choice experiments.
The Generalized Linear model, is a non-rigid platform which allows variables with errors respond to queries. Expected values of unidentifiable entities can be predicted using glm.The choice experiment design embedded in this package is very easy to use, providing an option for alternatives, each alternatives having two attributes each.
The package Support.CEs has a particular function which provides the McFadden's R-Squared, otherwise known as the rho-squared, modified by the number of estimated coefficients at the start and point of convergence. In versions 0.3-0 and higher, this function can also be used to calculate goodness-of-fit measures for binary choice models estimated by using the function glm in the package stats.The package support.CEs contains conditional logit model, which analyses response to choice experiment questions in R can be conducted using the function C Logit in the package survival.
You may like to read: Top Conjoint Analysis Software and Why Small Businesses Need Business Intelligence Software