Review
Pacestar UML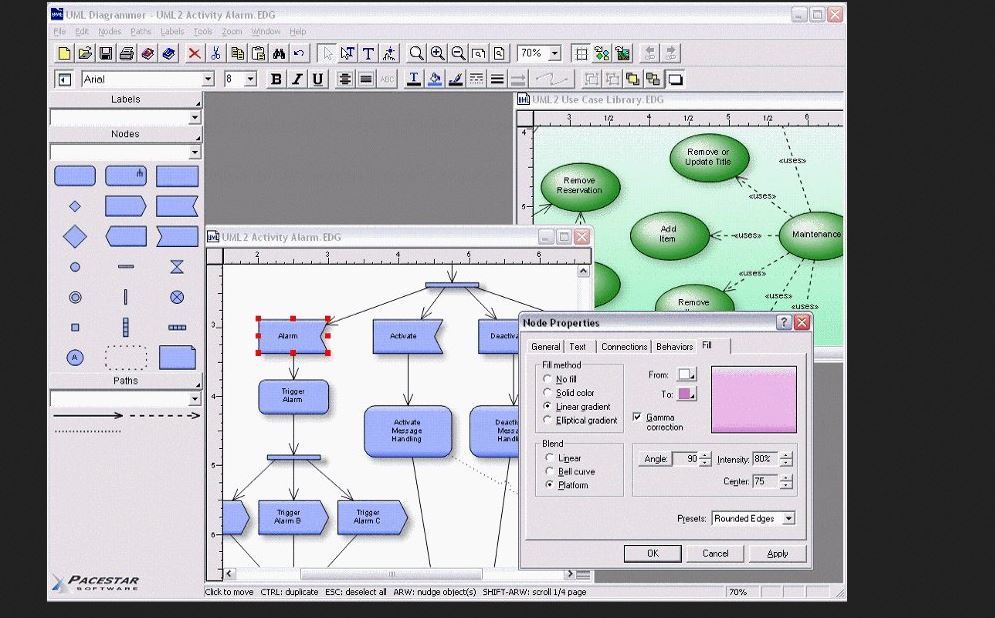 Overview
Pacestar UML Diagrammer helps you generate UML 2.0 diagrams quickly and easily. Develop, document, and communicate your designs in a systematic yet flexible AND commonly understood notation.
Unified Modeling Language Tools
Supports OMG UML
Includes UML Diagramming Guide
Includes Freely Distributable Diagram Reader
Supports Traditional Flowcharting
Individual Licenses:
Single User License $179
2 Single User Licenses $329
3 Single User Licenses $479
4 Single User Licenses $609
5 Single User Licenses $749
6 Single User Licenses $869
7 Single User Licenses $979
8 Single User Licenses $1069
9 Single User Licenses $1159
Multi-user Licenses:
10-User License $1229
20-User License $2369
30-User License $3389
40-User License $4279
50-User License $4999
Small (<50 employees), Medium (50 to 1000 Enterprise (>1001 employees)
Pacestar UML Diagrammer helps users generate UML 2.0 diagrams quickly and easily. They can develop, document, and communicate their designs in a systematic yet flexible AND commonly understood notation. Also, they are able to create activity diagrams, class and object diagrams, communication diagrams, use case diagrams, sequence diagrams, state charts, package diagrams, and component diagrams, deployment diagrams, composite structure diagrams, interaction overview diagrams, and even traditional flowcharts.
It is packed with aids to make UML diagramming easier.EDGE Diagrammer is Pacestar's most versatile diagramming tool. Allows creating a wide variety of technical, presentation, and design diagrams efficiently and with the highest quality results. EDGE Diagrammer is all users need for block diagrams, flow charts, org charts, family trees, data flow diagrams and more. Free extension packs are available to provide support for many different diagramming methodologies.
WizFlow Flowcharter is an easy-to-use, feature-rich, flowcharting and diagram drawing tool for Windows. WizFlow lets defining shape "styles" using over a hundred predefined shapes and arrowheads. WizFlow can create flowcharts and similar diagrams with minimal effort. As user draws his diagram, WizFlow connects lines to figures and attaches labels to lines. It remembers these relationships and adjusts automatically when user moves objects around. It can also adjust the size of a shape when you add text to it.
With LanFlow users can create great looking LAN, internet, telecommunications, and computer network diagramming with the minimum effort. In just minutes, they can plan and document a network and communicate flows and processes. LanFlow contains support for some of the basic block diagramming techniques in EDGE Diagrammer plus extensive network diagramming support.Pacestar UML Diagrammer is a simple tool for creating and maintaining Unified Modeling Language diagrams. Users can create all kinds of UML diagrams including Activity Diagrams, Interaction Diagrams, Component Diagrams, Class and Object Diagrams, Use-Case Diagrams, Sequence Diagrams, State Charts, Package Diagrams, and Deployment Diagrams, plus custom design diagrams.
You may like to read: Open Source, Free and Top Unified Modeling Language (UML) Tools and How to Select the Best Flowchart Software for Your Business