Oracle's StorageTek Virtual Storage Manager Provides Mainframe and Heterogeneous Storage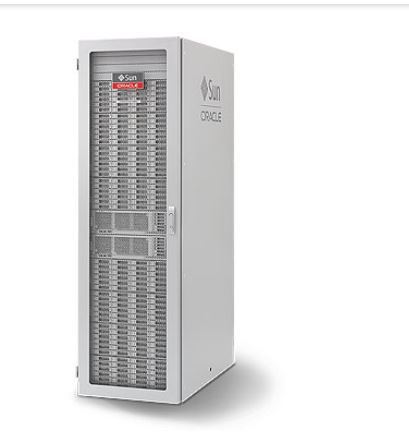 Oracle StorageTek Virtual Storage Manager (VSM) 7 System, the most secure and scalable data protection solution for mainframe and heterogeneous systems with the additional capability to provide fully automated tiering directly to the public cloud. Furthermore, Oracle's StorageTek VSM 7 System has been architected to seamlessly integrate with Oracle Storage Cloud Service—Object Storage and Oracle Storage Cloud Service – Archive Service and provides storage administrators with a built-in cloud strategy. With Oracle, cloud storage is now as accessible as on-premise storage.
"In the past, data protection solutions were designed to deal with exponential data growth on-premises, but an entirely different dynamic drove the design of the VSM 7," said James Cates, senior vice president, Archive Product Development, Oracle. "The core is still there—elevated performance, twice the capacity, a higher degree of scalability, but we saw a gap in the market, so we developed Engineered Cloud Tiering to enable mainframe users to take advantage of cloud economics."
"With its VSM 7, Oracle is bringing mainframe-caliber data protection to heterogeneous systems users, and its native tiering to the Oracle Cloud's storage and archive services will no doubt extend the market potential," said Mark Peters, practice director and senior analyst, ESG. "Furthermore, the enterprise-caliber Oracle Cloud adds a compelling and affordable storage alternative for mainframe customers."
Organizations can experience these benefits:
• Performance & Scalability: Oracle's StorageTek VSM 7 System is a superior data protection solution for IBM z Systems mainframes with full data interchange across previous generation VSM systems and key features that IBM's TS7700 virtual tape system lacks. Oracle's StorageTek VSM 7 System delivers, 34x more capacity, significantly higher scalability to 256 StorageTek VSM 7 Systems, data deduplication and native cloud tiering that provides mainframe and heterogeneous storage users the ability to access additional capacity on demand.
• Enhanced Security: Powered by Oracle's breakthrough SPARC M7 processor, Oracle's StorageTek VSM 7 System delivers wide-key encryption for data at rest and on removable tape media without performance compromise and also uses Silicon Secured Memory for data protection.
• Availability: Oracle's StorageTek VSM 7 System provides data protection solutions from on-premises to Oracle Cloud, with a single point of contact for all mainframe storage and heterogeneous storage requirements. Policies can be set to automatically copy or migrate files from external disk storage to low cost, off-site cloud storage. With native cloud tiering, customers benefit from end-to-end visibility and diagnostics from on-premise StorageTek VSM 7 System deployments to the Oracle Storage Cloud Service or Oracle Storage Cloud Archive Service.
• Disaster Recovery: Oracle's StorageTek VSM 7 System enables a "lights out" disaster recovery strategy, as a mainframe is no longer required at remote sites, dramatically reducing costs and simplifying deployments. Electronic data sharing across separate complexes, clustering, replication, and DR to the Oracle Cloud provides a breadth of simple, flexible disaster recovery options.
Oracle is also addressing the needs of mission critical heterogeneous environments underserved by other solutions. Extending its enterprise-proven architecture to a broader customer base, Oracle is providing robust mainframe data protection capabilities with flexible disaster recovery options.