Review
Oracle Product Hub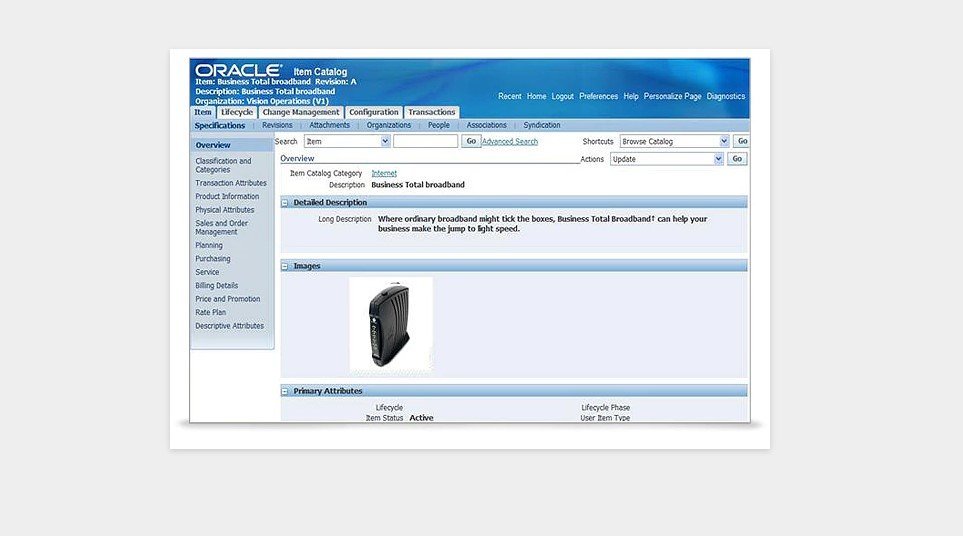 Overview
Oracle Product Hub connect product information of manufacturers, suppliers, retailers, service providers, and customers, manage relationships of items to suppliers and locations and leverage workbenches for publishing, data import and staging and apply specialized data quality techniques created to handle the intricacies of product information.
Master Data Management Software
•Centralize sell-side and buy-side product catalogs
•Aggregate products and components to serve as an inside product catalog
•Maintain a trusted source of product information
•Workflow-driven process automation
•Exception-based product change processes
•Mass creation, maintenance and approval of items
Small (<50 employees), Medium (50 to 1000 Enterprise (>1000 employees)
What is best?
•Single data import user interface
•Granular role-based access
•Embedded integration services
•Publication workbench
•Prebuilt common objects and services with integration to E-Business Suite, Siebel CRM and Agile PLM
Oracle Product Hub enables companies to centralize product information from heterogeneous systems, as well as eliminate the challenge of fragmented product data. This solution provides capabilities to match, merge and integrate multiple sources, governance and data quality tools to securely and collaboratively manage data within the hub and integration services to share the content across the company and with business partners.
Oracle Product Hub offers solutions that can consolidate, cleanse, and augment this corporate master data, and synchronize it with all applications, business processes, and analytical tools. Oracle Product Hub provides a number of options to meet data quality and standardization needs through EDQ (Oracle Enterprise Data Quality).
EDQ is a data quality platform that provides fit-for-purpose data for a number of different data domains. Enterprise Data Quality includes specialized techniques to effectively parse, analyze, standardize and cleanse product data. Product data inherently has a lot of variability, which is why a tool that can adequately handle this type of information is critical.
Oracle Product Hub provides consistency in product launch, accurate and complete information across channels, ultimately ensuring a various customer experience.Oracle Product Hub allows efficient synchronization of accurate product data with internal systems, and with suppliers and customers. Oracle Product Hub serves as the platform for collaboration and integration of all processes in user's value chain that touch product from design, to supply, to production, to sales.Oracle Product Hub is a market leading solution, designed for global business. This advanced, innovative solution provides companies with the ability to improve operation efficiencies, accelerate new product introductions and share accurate information with the extended product value chain.
You may like to read: Top Master Data Management Software and How to Select the Best Master Data Management Software for Your Business