Oracle Knowledge Advanced Cloud to Meet Customer Demands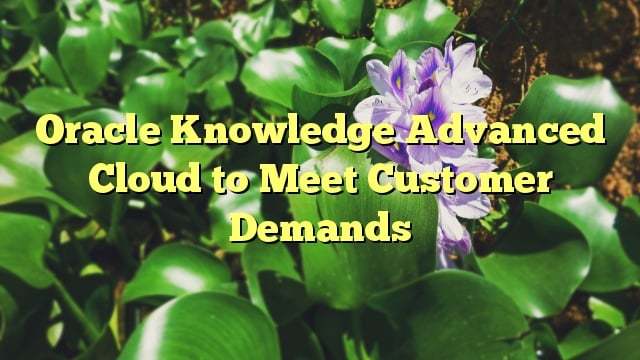 Oracle Knowledge Advanced Cloud to Meet Customer Demands : Oracle Knowledge Advanced, is a cloud solution within the Oracle Service Cloud that helps organizations deliver a better customer experience, while reducing overall customer support costs. Fully integrated into Oracle Service Cloud, the new cloud-based knowledge management solution enables organizations worldwide to effectively create and refine their knowledge assets to deliver a seamless cross-channel customer experience in 33 languages for both end customers and contact center agents.
In today's digital economy, customers want effortless engagements, and will increasingly leverage web or mobile self-service as a first point of contact with an organization. This makes it essential that organizations are able to leverage knowledge management to provide exceptional, effortless customer engagements and increase customer loyalty.
In fact, according to Forrester Research's September 2015 report Vendor Landscape: Knowledge Management for Customer Engagement, "Knowledge delivered to the customer or the customer-facing employee at the right time in the customer engagement process is critical to a successful interaction," wrote Kate Leggett, vice president & principal analyst, Forrester Research. "When done correctly, deeper knowledge can be used to personalize an interaction, increase customer satisfaction, reduce call handle time, lead to operational efficiencies, increase customer engagement, and ultimately drive conversion and revenue."
To help organizations around the globe meet customer demands and deliver the right answers through self-service channels, Oracle Knowledge Advanced cloud delivers rich capabilities including highly accurate cross-lingual search using natural language processing and self-learning algorithms, flexible authoring and workflow, rich analytics and customizable self-service and agent-facing knowledge applications. By taking advantage of federated search, organizations can find and display knowledge in one single interface regardless of where it is located, including the knowledgebase, other content stores and social sites.
Oracle Knowledge Advanced cloud also helps organizations drive efficiencies across the contact and engagement center by empowering agents with timely information at the point of need. The new release provides a complete web self-service solution with the integration of Knowledge Advanced and Customer Portal that enables brands to easily create and deploy pixel perfect service experiences using built-in tools and widgets. "Oracle's internal deployment of Oracle Knowledge Advanced along with Oracle Service Cloud has been a huge success", said Mark Sunday, CIO Oracle. "Oracle's 'My Help Customer Portal' offers a single place for our employees to find out how to do something, make a request, or obtain support. In addition to modernizing the support experience for Oracle employees, it has helped IT and other internal service providers be more efficient, proactive and productive by including Knowledge directly in the support process."
The addition of Oracle Knowledge Advanced cloud reinforces Oracle Service Cloud's commitment to helping organizations deliver successful customer experiences. Oracle Service Cloud is part of Oracle's Customer Experience Cloud, which also includes Oracle Marketing Cloud, Oracle Sales Cloud, Oracle Social Cloud, Oracle Configure, Price and Quote Cloud and Oracle Commerce Cloud.