Oracle Helps Ireland's HSE Achieve eHealth Ambitions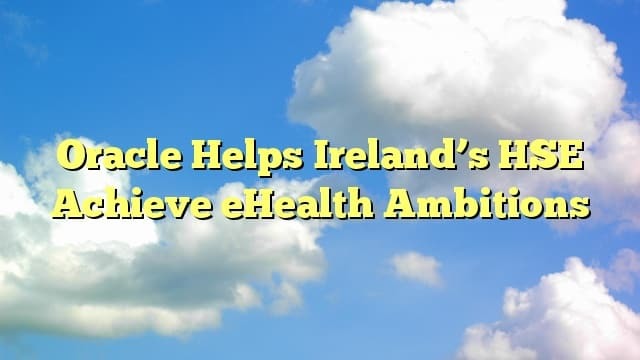 Ireland's Health Service Executive (HSE), which manages all of Ireland's public health services, has selected Oracle to help it achieve its goal of creating an integrated eHealth patient care model for the country.
The HSE's new Chief Information Officer, Richard Corbridge, has announced the roll-out of a new National Health Index within 12 months that can change the way technology supports the safe and efficient delivery of care in Ireland. The new index can serve as a digital information sharing infrastructure that can enhance patient care and cut the HSE's costs by streamlining the flow and helping to ensure the accuracy of information shared between patients, clinicians, and health organisations.
This implementation required the HSE to create a system of Individual Health Identifiers (IHIs), unique, non-transferable, life-long numbers for each Irish citizen, using the country's health and social care services. Relevant information on each patient can be attributable to this number and become accessible only to care-givers that have a legitimate relationship with them. The IHI therefore does not hold any clinical information, but simply serves as a detailed demographic record that allows pointers to where this information is stored.
The HSE chose Oracle Healthcare Master Person Index (OHMPI) to provide a central point to reference, manage and protect critical healthcare index for its citizens.
Within the infrastructure, and as an additional record, HSE has created two 'flags' for the recording of patient consent. These allow patients to exercise their right to consent to sharing clinical information both for the delivery of care and for clinical research purposes. The flags can also be further developed in-line with updates to how Ireland collects and retains patient consent information.
In the future, the OHMPI infrastructure plans to support the creation and sharing of a summary care record for patients in the Irish healthcare system. Patient consent can also be considered in the delivery of this system.
In addition to OHMPI, HSE is also using: Oracle Database, Oracle WebLogic Server, Oracle SOA Suite, Oracle API Gateway and Oracle Health Sciences Services. With the help of these Oracle solutions, patient information can be accessible from locations across Ireland where care is provided and made available to approved healthcare providers and specialists that have a legitimate relationship with the patient.
Richard Corbridge, CIO of the HSE, commented: "In common with many countries, Ireland's health service is facing a number of major challenges including a growing and ageing population and an increase in chronic illness and co-morbidities. All of these add to the cost and complexity of delivering high-quality healthcare. The move to an IHI marks an important step towards a new data-led approach to integrated healthcare centred on the patient.
Oracle technology will help us connect healthcare agencies and professionals like never before and deliver a much improved level of service to patients."
One example of how the IHI will work in practice is the HSE's new eReferral system. Until now, general practitioner (GP) referrals have had to pass through as many as 19 sets of hands before reaching a specialist. IHIs will make the transfer of referrals nearly instantaneous, helping to ensure that patients receive the care they need in a much timelier manner and allowing clinicians to spend more time treating them.
In addition, by storing test records electronically and opening up access to these through the use of the IHI, the HSE can almost completely eliminate the risk of losing paper records that would require patients to undergo replacement tests. The IHI can allow clinicians to access relevant patient information safely, securely and in an auditable fashion.
The first organisations to connect to the IHI include the nationwide Epilepsy Electronic Health Record, an Electronic Medical Record system in one of Dublin's major hospices, and a number of primary care centres that have volunteered to explore the benefits and opportunities of integrating the IHI in their systems.
The new IHI system can also play a crucial role in governance and security, providing the HSE with an audit trail of where and when patient data has been accessed.
Oracle Ireland Managing Director, Paul O'Riordan, said: "Oracle Systems are ideally suited to helping healthcare organisations meet the challenge of creating integrated eHealth systems. By reducing the cost of maintaining healthcare records, increasing automation and making secure access to data easier, we can help organisations like the HSE improve their services in a meaningful way. Just as importantly, we enable patients to better understand their own health data."
A proof of concept version of the system went live in September 2015, with the full system due to go live in spring 2016. To date 95.6 percent of patient records in Ireland have already been consolidated onto the new database.