Oracle Field Service Cloud to Power a Completely Connected Customer Service Experience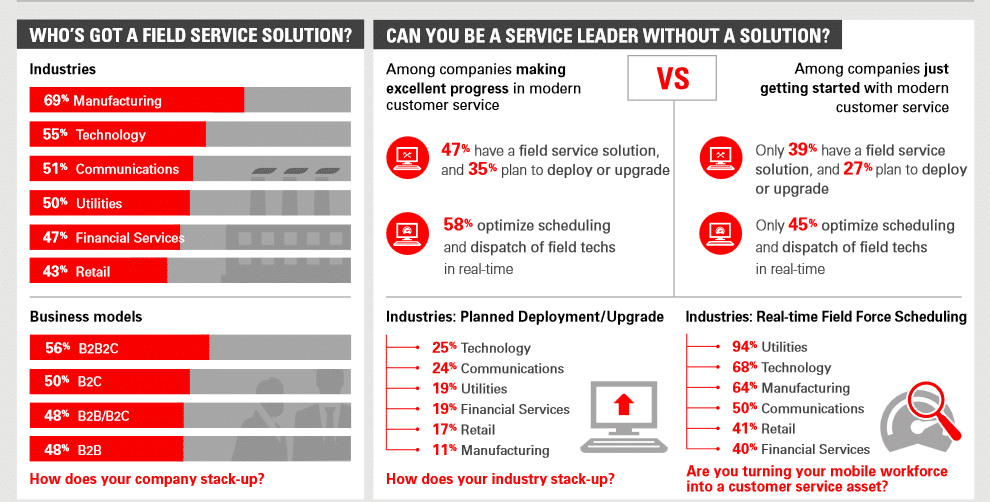 Oracle Field Service Cloud, is part of Oracle's end-to-end cloud customer service offering, delivers extensive new field service enhancements focused on mobility, ease of use, and connecting contact center agents delivering service via the phone, email, and chat to field technicians providing in person support.
Field service is a customer service cornerstone for brands spanning a number of industries—including telecommunications, utilities, high tech and manufacturing. A field service appointment may be the only time a company engages with its customers face-to-face to deliver a differentiated customer experience. Leveraging time-based, predictive, self-learning technology, Oracle Field Service Cloud helps create the most efficient job schedules and travel routes for field resources to ensure the right field resource arrives to every job on-time, with the parts and knowledge to complete the work the first time.
New features and integrations available in the latest release of Oracle Field Service Cloud include:
Expanded Field Resource Manager: Using a mobile device, field supervisors can now manage all field activities in real time with additional insights into field service team capacity. These new capabilities enable the field workforce to quickly respond to changing customer needs, while streamlining collaboration between resources in the field.
Automated Urgent Work Assignment: Companies can now respond to emergency situations using Oracle Field Service Cloud. When an event occurs, the application automatically locates the field resource nearest to the job and immediately routes them to the urgent event. The ability to take action automatically, without requiring human intervention, will help companies ensure relevant resources are quickly deployed – which in emergency situations, can make all the difference.
Integration with Oracle's E-Business Suite: This integration helps streamline job scheduling and inventory tracking capabilities. New integrations with Oracle Integration Cloud Service (ICS) help Oracle Field Service Cloud customers quickly and easily integrate with other cloud applications such as Oracle Sales Cloud.
"At Pella we continually strive to exceed our customer's expectations and with the recent implementation of Oracle Field Service Cloud we are gaining new levels of customer service capabilities," said Julia Neary, IT Manager, Fulfillment and Service, Pella Corporation. "We are already seeing a reduction in manual processes and improved management of our service technicians. More importantly we are able to leverage Oracle Field Service Cloud to respond faster, more reliably and more efficiently to our customer's needs."
Oracle Field Service Cloud is part of the Oracle Service Cloud portfolio which delivers a complete service experience across a wide range of modern contact center channels including web, phone, email, chat, social and the in-person field service interaction, all powered by the latest technology. This cross channel, connected and mobile service experience is something that competitive products fail to deliver.