Oracle Extends Enterprise Cloud Portfolio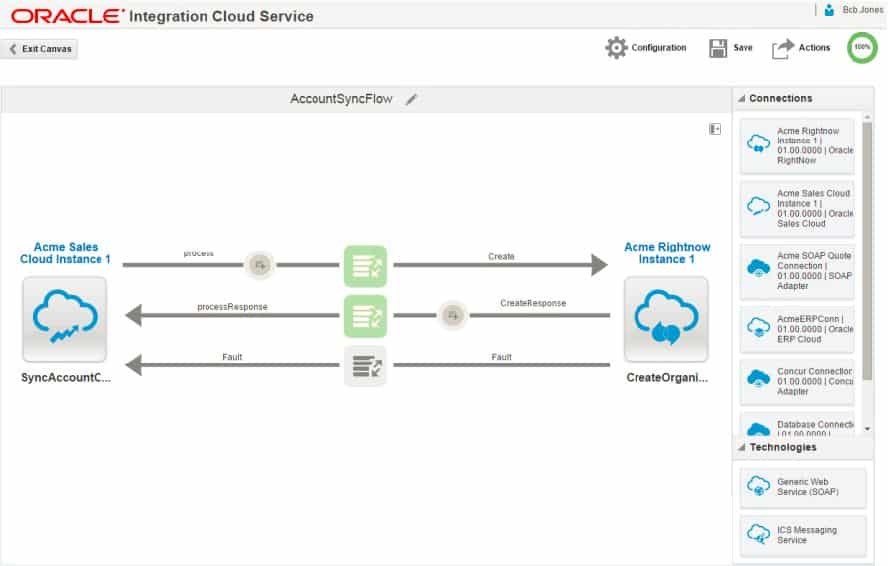 Oracle Extends Enterprise Cloud Portfolio : The Oracle Cloud Platform helps customers build new applications, extend existing ones, and easily move existing on-premises workloads to the cloud with no application changes. The services are designed to maximize end user experience and productivity; enable developers to manage and analyze data, rapidly develop, test and deploy applications; enable architects to quickly integrate across on-premises and cloud applications; and enable business users to drive rich business insights and enterprise collaboration. With the Oracle Cloud Platform, customers and partners are able to take advantage of the industry-leading Oracle middleware and database software that thousands of global organizations already use to run their own businesses, all delivered via cloud. The extensive level of automation that has been engineered into the Oracle Cloud, results in faster time-to-value, greater innovation, and lower cost for customers. With more than 24 new cloud services, the Oracle Cloud Platform provides a portfolio of SaaS, PaaS and IaaS. Newly available Oracle Cloud services include, Oracle Database Cloud - Exadata, Oracle Archive Storage Cloud, Oracle Big Data Cloud, Oracle Integration Cloud, Oracle Mobile Cloud, and Oracle Process Cloud. Oracle Cloud supports 70+ million users and more than 33 billion transactions each day. It runs on 54,000 devices and more than 700 petabytes of storage in 19 data centers around the world.
Exadata Service brings the full power of the Oracle Exadata database platform to the cloud. With this service, customers can run Oracle databases in the cloud with the same functionality, performance and availability of on-premises Oracle Exadata-based production databases, already in operation at thousands of mission critical sites worldwide. Oracle databases deployed in the cloud as part of this service are 100 percent compatible with those that are deployed on-premises, enabling a smooth migration to the cloud, as well as a seamless transition to a hybrid cloud strategy.
Oracle Archive Storage Cloud Service provides storage for applications and workloads that require long-term retention at the lowest price in the industry. As a "deep cloud" archive, the Archive Storage Cloud is suited for infrequently accessed large-scale data sets, such as corporate financial records, medical and pharmaceutical archives, cultural preservation content, insurance records and digital film masters. The service, backed by enterprise-grade SLAs, enables organizations to access archived documents and data sets using industry-standard APIs, and integration with Oracle and third-party backup, archival and preservation software. It also provides an additional tier for on-premises Oracle storage systems, including ZS Series, FS Series and Oracle StorageTek tape solutions.
Oracle Big Data Cloud Service and Big Data SQL Cloud Service provides a high-performance, secure platform for running diverse workloads on Hadoop and NoSQL databases to help enterprises acquire and organize Big Data. Combined with the new Big Data SQL Cloud, Oracle Big Data Cloud extends Oracle's industry-leading implementation of SQL to Hadoop and NoSQL, providing users with a comprehensive Big Data Management System in an enterprise cloud.
Oracle Integration Cloud Service simplifies integration between the cloud and on-premises Oracle and third-party applications. Innovative new features, such as pre-built integrations and embedded best practice recommendations, provide an entirely new application integration experience. The Integration Cloud provides simple and intuitive application integration that combines business users' ease-of-use requirements with the proven mission-critical foundation of Oracle SOA Suite.
Oracle Mobile Cloud Service simplifies enterprise mobility by removing the complexity in the mobile backend infrastructure. A next-generation Mobile Back-end as a Service (MBaaS), the Mobile Cloud allows developers to rapidly develop and deploy engaging mobile apps integrated with a robust enterprise-grade backend cloud infrastructure. Mobile app integration, mobile APIs and security are abstracted from developers, allowing them to collaborate effortlessly and quickly to develop and deliver mobile apps that run on any device and meet any business need. Additionally, with built-in mobile analytics, business stakeholders can gain insights into mobile app usage and adoption and personalize engagements.
Oracle Process Cloud Service enables business users to innovate and deliver process applications independent of IT. With a zero-code, cloud-based process automation platform, the Process Cloud empowers business users to manage the entire lifecycle of business processes and gain actionable insight on process health and SLAs. Business users can now deliver mobile workflows, automate manual processes, and customize SaaS applications.