Oracle Data as a Service for Marketing for B2B Marketers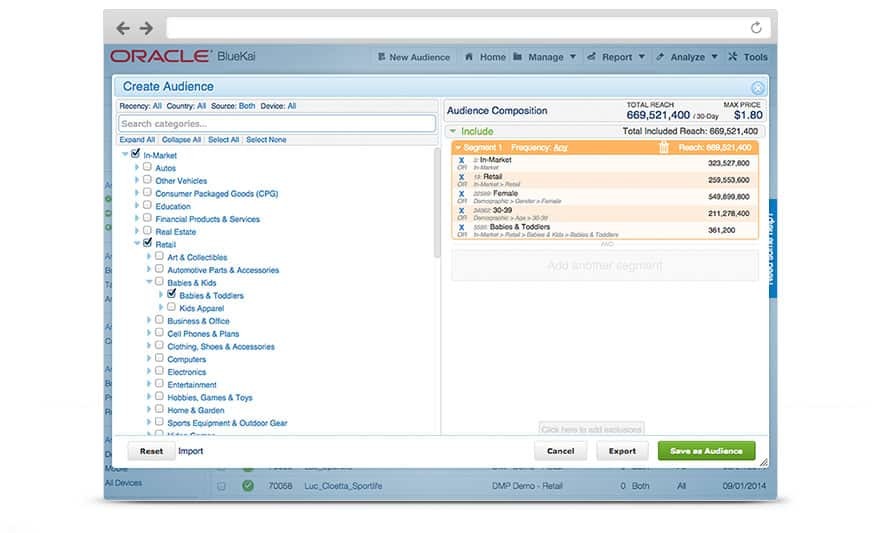 Oracle Data as a Service for Marketing for B2B Marketers : Oracle DaaS for Marketing is an Oracle Data Cloud solutions, along with Oracle DaaS for Customer Intelligence and Oracle DaaS for Sales. Business-to-business (B2B) marketers must constantly reach new audiences in order to increase the number of sales leads and opportunities to drive sales conversion. Their challenge is to efficiently target qualified audiences while not wasting impressions and dollars on businesses or people who are not qualified buyers. Oracle Data as a Service for Marketing (Oracle DaaS for Marketing) help marketers identify, qualify, and target new professional audiences with more relevant cross-channel messages, with the release of a comprehensive B2B data set for smarter prospecting. The offering spans anonymous audience data for digital media targeting as well as known profile and business data for database enrichment and e-mail prospecting.
The B2B audience data set was developed in collaboration with some of the biggest B2B data providers, including Dun & Bradstreet and Madison Logic, to meet the increased demand for third-party business data among B2B marketers.
B2B marketers can now access 300 million anonymous business profiles from Oracle BlueKai Audience Data Marketplace or through Oracle Data Management Platform, part of Oracle Marketing Cloud, to help identify their ideal audience and enhance their media efforts with targeting precision and scale. The data set includes more than 200 targeting attributes, including granular targeting against company age, size, industry, sales volume, employee type, role, and more.
In addition, Oracle Marketing Cloud customers and other B2B marketers looking to tap into new prospecting lists for e-mail campaigns, database cleansing, or profile enrichment can now access such data from a self-service DaaS interface. They can easily build net-new account and contact prospecting lists leveraging Dun & Bradstreet's trusted source of more than 240 million companies, create a more complete profile of target accounts and decision-makers including social attributes, and enrich existing databases with information on more than 100 million US contacts. This combination of known and anonymous B2B data arms marketers with comprehensive information to better target and provide a consistent experience across e-mail, paid media, and personalization efforts for online, video, and social platforms.
The other Oracle Data Cloud solutions are, Oracle DaaS for Customer Intelligence and Oracle DaaS for Sales.Oracle Data as a Service (DaaS) for Customer Intelligence is a new Oracle Data Cloud product and is designed to help organizations extract and unify insights from a growing world of unstructured data assets. These insights can be used to capture a complete view of customer input across social and enterprise channels, identify and manage customer issues, understand how customer voice is impacting sales, and ultimately arm businesses with the intelligence to create happier customers. Oracle DaaS for Customer Intelligence helps organizations address challenges by unifying customer data across all social and enterprise service channels into aggregated signals about customer intent, including topics, indicators, themes and sentiment. By unifying different unstructured customer data sources, the new Oracle Data Cloud offering enables organizations to rapidly identify trending topics and emerging issues, and better detect brand sentiment to enhance customer intelligence and inform smarter service and product decisions. Using a proprietary blend of keyword/Boolean search, latent semantic analysis and natural language processing, Oracle's Semantic API can help organizations categorize, and extract structured insight from any type internal or external unstructured data, including chat logs, forms, surveys, comments, and user forums. Leveraging the same technology, Oracle's Enriched Social Data Feed can extract pure signals from more than 700 million social messages daily, across more than 40 million social sites.
Oracle Data as a Service (DaaS) for Sales powers smarter selling with the highest quality and most comprehensive third-party data and lets to discover and reach new prospects in millions of contacts and social media profiles from thousands of companies.