Oracle Business Intelligence Digital Transformation Through Agile Visual Analytics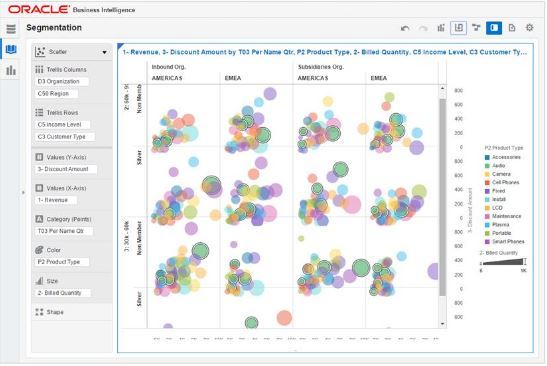 Oracle Business Intelligence Digital Transformation Through Agile Visual Analytics : Oracle Business Intelligence 12c (BI 12c), is designed to deliver an entirely new experience for blending and visually analyzing any data in an enterprise scale analytics platform. The foundation of Oracle's analytics offerings, Oracle BI 12c allows people across the organization to leverage a single integrated platform for self service, visual data discovery and quickly find answers to pressing business questions while in the office or on the go. Oracle BI 12c delivers both in a no compromise, modern platform that empowers people with stunning visual analytics as well as curated dashboards and analysis across personal, departmental and enterprise data. Oracle BI 12c advances the state of the art with an integrated platform delivering self service visual analytics, a re-imagined user experience, optimized in-memory processing, built-in advanced analytics and simplified administration.
Oracle BI 12c, provides integration of data visualization and self-service data blending with enterprise analytics capabilities in the same offering, allowing customers to achieve the best of self-service agility and IT-managed reliability. Provides intuitive search-driven analytics enabling people to type or speak questions and receive visualizations in response, broadening the reach and adoption of analytics across the organization. Optimized in-memory processing for best use of system resources, enabling faster analysis on more data from personal, departmental, enterprise and Big Data sources and simplified administration and a streamlined upgrade process, delivering significantly lower cost of ownership.
Oracle BI 12c offers compatibility and integration with the full breadth of Oracle's analytics offerings, both on-premises and in the cloud. Oracle's consistent technology approach ensures continuity of experience and portability across its entire analytics portfolio in the cloud and on-premises making it simpler for customers to adopt the environment of their choice and scale as their needs evolve.