Review
OpenConferenceWare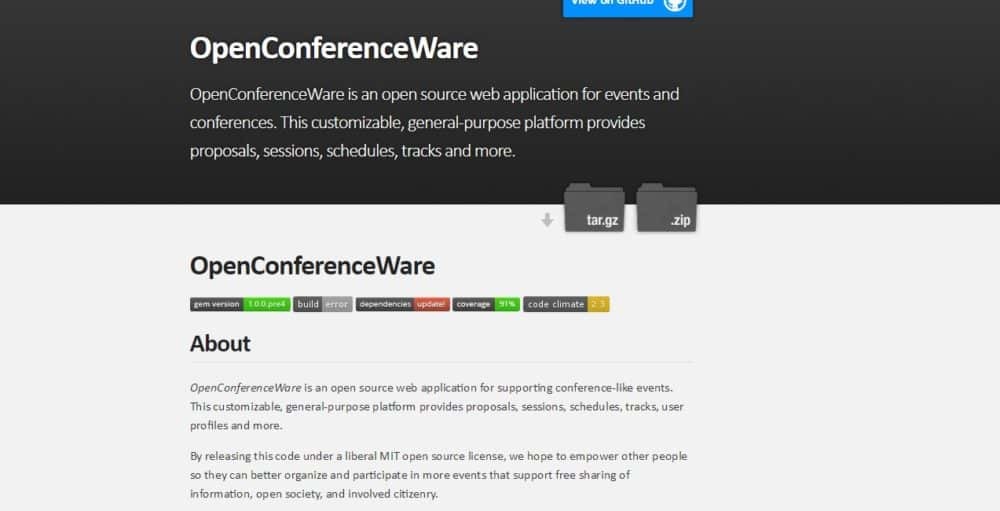 Overview
OpenConferenceWare is an open source web application for supporting conference-like events. This customizable, general-purpose platform provides proposals, sessions, schedules, tracks, user profiles and more.
Event Managemet Software Open Source
• Anyone can list events
• Anyone cam list/show tracks for an event
• Login via OpenID or password
• Create proposals until a deadline
• Developers can customize sites appearance and behavior
• Export proposals and comments to CSV
• Receive information of new proposals via ATOM feed
• Subscribe to a feed of proposals for the event
Small (<50 employees), Medium (50 to 1000 Enterprise (>1001 employees)
What are the benefits?
• Designate members of a content selection committee
• Provided under MIT open source license
• Distributed as Rails engine which adds on functionality
• Customizable and general-purpose platform
• OmniAuth authenticated for a variety of external services
• Friendly sign in forms provided for OpenID and Persona
OpenConferenceWare provides you with the capabilities to support conference like events. Being a customizable and general purpose platform, OpenConferenceWare provides you with multiple solutions such as proposals, sessions, schedules, tracks, and so much more.
Under an open source license you, you are able to get empowered into being more organized and participative in more events that support free sharing of information and open society.
Rails engine facilitates the distribution of OpenConferenceWare and this allows for added functionality, providing you with additional parts of your events website. It is quite simple to install and use OpenConferenceWare, with the installation step by step from scratch being available on the download site.
Authentication is provided by OmniAuth and it allows you to sign in using a several external services. You will need to configure an authentication before deploying since none is enabled by default . OpenConferenceWare also provides friendly sign in forms for OpenID and Persona.