Nimble Smart Contacts Apps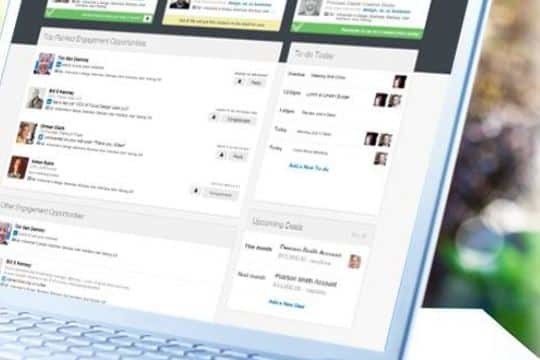 Nimble Smart Contacts Apps: Nimble launched its new Smart Contacts Apps for Gmail, Chrome, Safari and Firefox. The new Nimble Smart Contacts App automatically builds live contact and company profiles on anyone in your inbox and every app in your browser. Nimble is a pioneer in social selling relationship management for individuals and teams to intelligently nurture relationships across email and social networks such as Twitter, Facebook and LinkedIn. Nimble combines the strengths of traditional CRM, classic contact management and social media into a powerful social selling solution. Nimble was founded by Jon Ferrara, the co-founder of GoldMine, a pioneer of SFA, CRM, Relationship Management and Marketing Automation.
"CRMs fail due to lack of use. Nobody wants to constantly be in their CRM, manually editing and updating contact records. Nimble is the first relationship platform that automatically creates records with rich insights and logs all email and social interactions," said Jon Ferrara, CEO at Nimble. "With the release of our new Smart Contacts App, we are enabling our customers to bring their relationships with them everywhere they work."
Nimble automatically builds your CRM database by gathering existing contact and company records and linking them with your team's emails, calendar events and social interactions. Nimble now delivers critical context and intelligent relationship insights in your Chrome, Safari or Firefox browsers; and your Apps; Gmail, Outlook, Salesforce, LinkedIn, Twitter, Facebook, Instagram, AngelList, CrunchBase, Google+, Hootsuite, TweetDeck and mobile apps for Apple iOS and Android.
The New Nimble Smart Contacts App provides these benefits:
Connecting Intelligently Everywhere You Work - Nimble is the first CRM that works wherever you're engaging customers. The Smart Contacts App provides the context you need to connect intelligently and take action from any social site or business app.
Live Profiles on People and Companies - Nimble finds instant insights on people or companies and builds live profiles on the fly: simply hover to discover and click to connect. It delivers essential contact details including who people are, where they work where they are from and company details like number of company employees, year founded, revenue, industry, CEO details, location, social profiles, contact info and more.
One-Click Import and Updates - Nimble knows if you're in Gmail, LinkedIn, Twitter, Facebook or even a Forbes article, and pulls details from emails and web pages with one click to create and enrich contact records.
Match Social Profiles Automatically - The Smart Contacts App saves you time by suggesting additional social profiles for your contacts and companies, making it easy to add new profiles from Twitter, AngelList, LinkedIn, Facebook, Google+, Foursquare, Instagram and more.
Intelligent Up-To-Date Relationship Insights - Nimble links social profile details for all of your contacts and companies and keeps them up to date. It then downloads relationship insights from dozens of sources around the web, including Twitter, LinkedIn, Facebook, Google+, AngelList, Instagram and Foursquare. Nimble is the first CRM that updates itself with the details you need: company name, title, location, experience, education, shared relationships, mutual interests and more.
ffortlessly Update, Organize and Take Action - Organize your contacts with tags, log notes about the people you meet and schedule tasks to follow up at a later date.