Next Generation Analytics with Teradata Aster Discovery Platform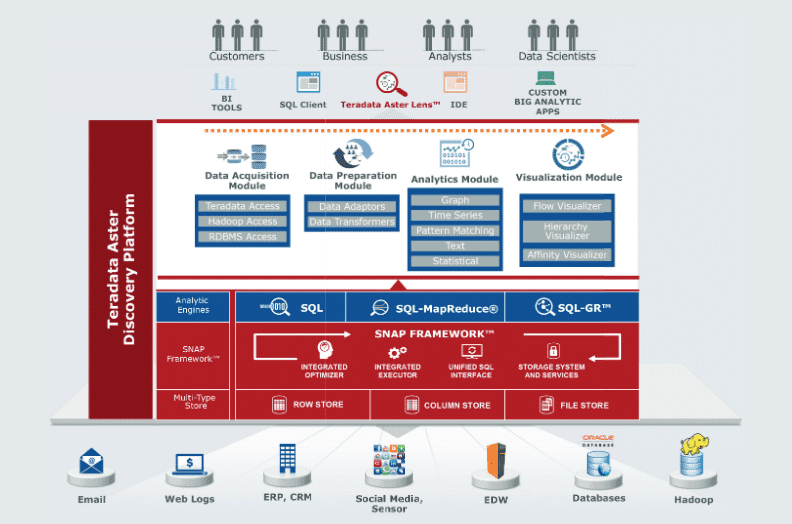 Next Generation Analytics with Teradata Aster Discovery Platform: Teradata Aster Discovery Platform is part of a new generation of solutions empowering chief information officers to execute a cohesive big data strategy creating an unfair competitive advantage. Data scientists and analysts have been plagued by a piecemeal big data strategy, rudimentary tools, lack of scalability, and the use of disparate tools, technologies, and processes.The Teradata Aster Discovery Platform runs on the Teradata Aster Big Analytics Appliance and integrates the Teradata Aster Database, SQL-MapReduce, and Apache Hadoop. The Aster Discovery Platform offers a pre-built analytics library of more than 80 SQL-MapReduce functions. It runs on Teradata platform hardware, SUSE Linux operating system, and enterprise-class storage all preinstalled into a power efficient unit.The innovations in the Aster Discovery Platform include Teradata Aster SQL-GR, a graph engine, and the Teradata SNAP Framework.
The Aster SQL-GR graph engine is scalable, processes big data in parallel, and is not limited by system memory. Its analytic capability can extend to millions of vertices. The Aster SQL-GR engine enables native processing of large-scale analytic graph queries and pre-built graph functions and can be used for customer churn, product affinity, fraud detection, and recommendation engines. For example, telecommunications providers can use graph analysis to look for high-traffic connections among selected users, which provides clues to fraudulent calling activity.
Teradata Aster Discovery Platform
Teradata SNAP Framework enables multiple analytic engines and file stores to be seamlessly "snapped" together based on the customers' tailored discovery needs. The tightly integrated components within the Teradata SNAP Framework provide data scientists with unmatched, next-generation analytic power and speed to insight through a seamless discovery workflow, which even a business analyst, can use. Any user is able to delve deeply into data for new competitive insights by leveraging multiple analytical capabilities – like graph, MapReduce, text, statistical, time series, and SQL-based analytics. Business analysts only need to submit a single query in SQL or through a business intelligence tool and the new query executer and optimizer seamlessly engage a combination of analytic engines on petabytes of data from new and existing files stores for high performance processing at scale.
The Aster Discovery Platform enables rapid exploration and discovery from all data with next-generation analytics, which creates new, differentiated business insights. Any SQL-savvy analyst or business user will find it easy to use, yet it is powerful enough for the most sophisticated data scientists. The Teradata SNAP Framework, which integrates analytic engines and data stores, delivers an order of magnitude improvement in ease-of-use, analytic power, and performance.
Teradata has integrated SQL, MapReduce, text analytics, statistical analytics, or graph analytics into a single solution with the power to invoke one or all of these analytic capabilities in an easy-to-use iterative SQL statement. The new capabilities will accelerate the discovery process and empower business users to visualize information in exciting and valuable ways. Retailers search for specific low profit margin food items that influence the purchase of high profit items. The purchase of low margin salad dressings can lead to additional items that the shopper needs for a meal, such as the higher margin meats and wine. With this discovery, retailers are able to understand bridge products like olives and cheese and strategically locate items in the store and offer coupons to maximize margin.
The Teradata SNAP Framework seamlessly and simultaneously integrates the engines and data stores, and then executes and optimizes the query cross-analytic engines and data stores. The Teradata Aster Integrated Optimizer understands the discovery query's request and automatically runs the query utilizing the most efficient use of resources, which drives the highest performance data processing at scale. The new Teradata Aster Integrated Executor orchestrates all types of queries by enabling communication among analytic engines.
Teradata Aster Common Storage System and Services provides a set of common services designed to efficiently write data to the disk, and offer data replication, and snapshots. These features support a unified security model, high availability, reliability, and manageability.
Teradata Aster's storage architecture provides storage options that are built for specific storage and analytic demands of data discovery. Teradata has added new pre-built functions that can be accessed from a common SQL framework. Aster Discovery Platform also extends in-database analytics and discovery with the integration of Fuzzy Logix's 600-plus advanced analytic algorithms. The analytic functions further empower the data scientist and analyst to rapidly dig into data with the insightful, interactive visualizations delivered through a Web browser and common business intelligence tools.