Review
NewVoiceMedia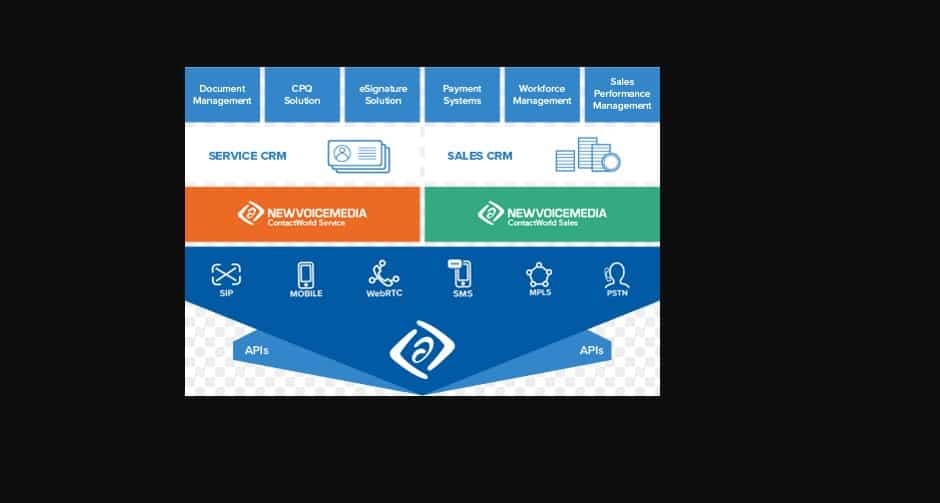 Overview
The system integrates seamlessly with Salesforce giving you full access to your hard-won CRM data, without expensive, disruptive hardware changes
•24/7 customer support
•Analytics
•Automatic notifications
•Automatic Call Distributor (ACD)
•Call center
•Access control
Small (<50 employees), Medium (50 to 1000 Enterprise (>1001 employees)
What is best?
•Analytics
•Automatic notifications
•Automatic Call Distributor (ACD)
•Call center
NewVoiceMedia is a leading provider of cloud contact center and inside sales software for Salesforce. It enables sales and service agents to place and receive phone calls from within the Salesforce or Desk.com UI. ContactWorld, from NewVoiceMedia is a global, cloud communications platform. NewVoiceMedia provides a guarantee of 99.999% platform availability. ContactWorld for Sales integrates with Salesforce Sales Cloud® to increase the efficiency of inside sales teams. By integrating telephony with Salesforce you ensure that all calls are logged, recorded and easily tracked through integrated reporting and interactive dashboards. Click-to-dial, automated dialing and local caller ID increase the call connect rate. Inbound calls can easily be routed to the right sales rep for immediate follow up. ContactWorld for Service integrates with Salesforce Service Cloud® to help your agents answer service and support calls. Phone calls as well as emails, and social media posts can be prioritized and routed to the most qualified agent along with the caller information and case history. Interactive Voice Response can be used to offer self service options and offer calls the option of being connected to an agent. We recommend NewVoiceMedia ContactWorld to any organization that already uses or is considering Salesforce for their contact center or inside sales operation, and is also looking for a unified communications platform that offers industry-leading features at a reasonable price. NewVoiceMedia provides the client's customers with personal advice and ensures that all conversations are professional. They are all recorded in order to ensure the quality and enhance the training available.