New Solution Guide to Help CMOs Transform Their Marketing Organization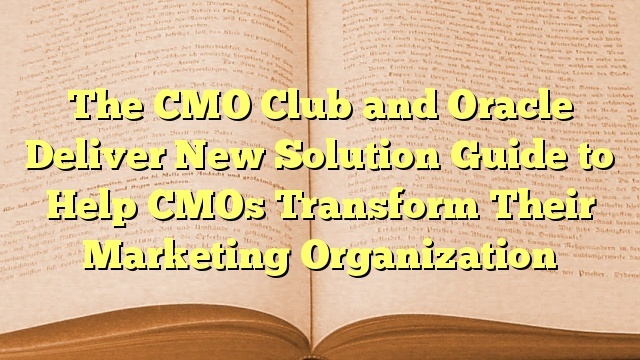 New Solution Guide to Help CMOs Transform Their Marketing Organization : The CMO Club, along with Oracle, released "The CMO Solution Guide for Building a Modern Marketing Organization." The guide, which is based on interviews with CMOs and digital marketing leaders from major brands including Dow Chemical, JetBlue Airways, MasterCard, PayPal, Quiznos, The Hershey Company and Viking River Cruises, includes insights and best practices that CMOs can apply to build customer-first marketing teams that drive measureable results.
Marketing leaders are faced with a perfect storm of business, consumer and technological change that is exponentially increasing the complexity of every single marketing activity. In this new business environment, marketers need to rethink existing processes and embrace data, technology and content to deliver more meaningful customer experiences and demonstrate marketing's impact on business results. To help marketers successfully manage this transformation, the new CMO Solution Guide provides practical advice from 20 in-depth interviews with CMOs and digital marketing leaders from organizations of various sizes and different industries.
"While the number of tools and amount of data available to marketers continues to multiply, the age old challenge of capturing and leveraging the right data to create engaging customer experience across all channels still exists," said Pete Krainik, CEO, The CMO Club. "The first step they must take is to establish the appropriate organizational alignment to successfully create this type of customer experience. While no organization is exactly the same, this guide helps provide easy-to-implement changes that any marketer can use to drive transformation."
CMO Priorities: Acumen, Alignment, Agility and Accountability
While there is no organizational model that fits every company universally, four key themes emerged during the course of the interviews that informed the organizational decisions that CMOs make: Acumen, Alignment, Agility and Accountability.
Acumen: To become more effective modern marketers, respondents reported that enhancing the skills within their department has become a top priority. From developing valuable customer insights through data mining to investing in content creation and the need for greater evaluative analytics, leading marketers are investing heavily in helping their teams learn new skills.
"We set up an analytics center of excellence to centralize and analyze information across platforms," said Karen Quintos, CMO, Dell. "This equips our marketers with the real-time insights and agility they need to develop customer-centric programs that advance our business."
Alignment: From top to bottom and across all functions, the guide shows that it is critical for all departments to follow the same processes and company culture in order to effectively engage customers across all touchpoints.
"Alignment is very important," said Rishi Dave, CMO, Dun & Bradstreet. "Marketing is evolving and becoming very specialized across a number of disciplines—technology, data, analytics, content, operations, creative, etc. Marketing organizations need to hire specialists who are experts in these areas and create the processes for the specialists to work together in an integrated way in service of the customers. This was less of an issue when marketing was a general discipline in the old days."
Agility: To meet consumer demands for exceptional customer experience, the guide noted how important it is for businesses to have strong cross-functional teams and the flexibility to pilot something new to test and learn best practices.
"Pilot is my favorite word – trying something new with the intention of learning and knowing it may fail," said Snehal Desai, Global Business Director, Dow Water & Processing Solutions, Dow Chemical. "People are more willing to support a pilot than to completely change the way they are doing things today."
Accountability: To demonstrate marketing's impact on the bottom line, the guide recommends establishing the right measures from the outset and instilling a culture of personal accountability around those parameters.