Review
NetSuite SuiteCommerce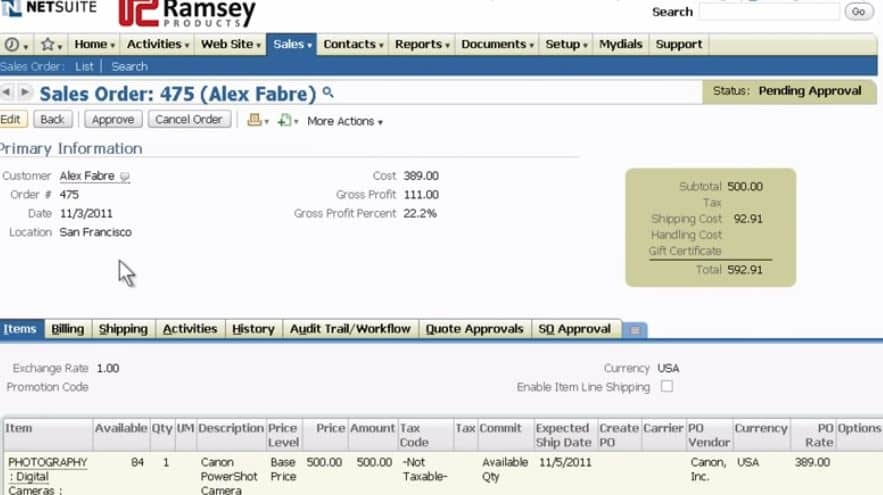 Overview
NetSuite is a leading provider of cloud-based financials / ERP and omnichanel commerce software suites.
Subscription Management Software
•Multi-functional
•Easy access
•Works on different online platforms and devices
•Real-time updates and viewing
Small (<50 employees), Medium (50 to 1000 Enterprise (>1001 employees)
What is best?
•Easy access
•Works on different online platforms and devices
•Real-time updates and viewing
SuiteCommerce provides an ecommerce platform that enables business to deliver engaging and personalized shopping experiences on any digital device across any channel.
Unify ecommerce with your back-office systems and design the experience that you want for your brand with SuiteCommerce. NetSuite ERP runs all of all key back-office operations and financial business processes in the cloud—including accounting, inventory and supply chain and order management.It delivers the proven, comprehensive financial management capabilities required to grow a changing, complex business.
NetSuite ERP takes businesses beyond traditional accounting software by streamlining operations across their entire organization and providing users with the real-time visibility companies need to make better, faster decisions.Some of the key benefits of the platform are its ability to accelerate the order-to cash process by 50%+, slash financial close by over 50%, drive better, faster decision-making with real-time data and reporting, and personalized dashboards, improve workforce productivity, and lower cost of ownership by eliminating upfront and ongoing IT expenditures.
The software is the only cloud solution that delivers a real-time 360-degree view of a company's customer. NetSuite CRM provides a seamless flow of information across the entire customer lifecycle from lead through to opportunity, sales order, fulfillment, renewal, upsell, cross-sell, and support.
In addition to traditional CRM capabilities like SFA, customer support and marketing automation, NetSuite CRM delivers quotes, order management, commissions, sales forecasting and integrated Ecommerce capabilities.Some of its key benefits are its ability to streamline lead-to-cash processes, elevate productivity across the organization with a 360-degree view of a business's customers, improve sales performance through forecasting, upsell and commission management, and manage global sales and services organizations.
Combining ecommerce, order management, inventory, CRM and financials, SuiteCommerce enables businesses to deliver engaging and personalized online experiences on any device.Resource management, project management, project accounting, timesheet and expense management in NetSuite PSA improves resource utilization, on-time project delivery and profitability and streamlines invoicing and billing.NetSuite Professional Services Automation, a part of NetSuite Services Resource Planning solution, helps users to accurately plan, track and execute projects.
You may like to read: How to Select the Best Subscription Management Software for Your Business and Top Subscription Management Software