NetSuite Mobile App with Rich ERP Capabilities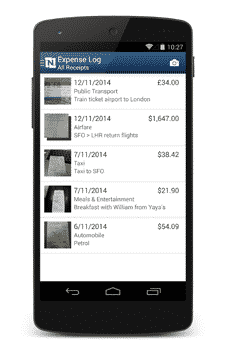 NetSuite Mobile App with Rich ERP Capabilities : NetSuite, theprovider of cloud-based financials / ERP and omnichannel commerce software suites, announced NetSuite for Android, the ERP Android OS application delivering rich ERP capabilities for mobile users to conduct business on the go—from an airport, client site, coffee shop, home or anywhere their data plan can reach. Available as a free download soon on Google Play, NetSuite for Android is expected to address customer demand and the ever-growing need for business users to manage business processes that are powered by NetSuite—from ERP, CRM, to ecommerce—all via the Android app being developed by NetSuite. The initial release is expected to provide quick and easy time and expense management, including time entry and bulk uploads of multiple receipts captured as images on mobile devices. The mobile app is also expected to offer the ability to track time and expense offline, while not connected to the Internet.
NetSuite cloud ERP users span a variety of industries including manufacturing, wholesale/distribution, software, services, and retail/ecommerce. NetSuite for Android can allow ERP users across this spectrum of industries to conduct business on the go. For example, a sales rep in the wholesale and distribution industry can get immediate access to inventory data while they're on the road, allowing them to tell a customer when the item will be delivered as the customer places the order. A field service technician in the manufacturing industry can look up a customer's previous orders, customer service calls and notes while on-site, reducing service time and improving customer satisfaction. A sales rep in the services industry can look up case history on the way to a client meeting, arriving prepared with all the necessary background information.
With mobile apps for both Android and iPhone, NetSuite is meeting customer demand for access to ERP capabilities over the world's two most popular mobile operating systems, which together commanded 96.4 percent of the market in Q2 2014, according to the analyst firm International Data Corp. (IDC)1. As NetSuite for Android capabilities are built out in conjunction with NetSuite for iPhone, users can have new flexibility in managing their business over their smartphone and mobile OS of choice, with capabilities for:
• Home dashboard synchronisation. Access key performance indicator (KPI) metrics and scorecards, trend graphs, report snapshots and more.
• Full record support. Create, edit, delete, and view key record types including leads, customers, sales orders, invoices, expense reports and more.
• Business action support. Approve sales orders and expense reports, convert estimates, accept customer payments, bill sales orders and more.
• Complete activity management. Manage calendars across list, week and month views, and view other calendars including those of fellow employees.
• Record customisation support. All existing customizations including custom forms, fields and scripts are supported.
• Complete time and expense management. Manage time tracking and expenses quickly and easily, including bulk uploads of multiple images of receipts captured on mobile devices.
• Saved searches. Get all the results and drill down to the record level using any existing NetSuite Saved Search.
• Expanded swipe action support. Map customer locations, initiate phone calls, respond to events, or quickly switch into Edit mode.
• Localisation. Instantly adapts to specified NetSuite language settings and supports multiple currencies.
The initial release of the NetSuite for Android application is expected to be available for download on Google Play in December 2014. The full roll-out is expected to launch in early 2015.