NetBase new Social Analytics Visualization Dashboards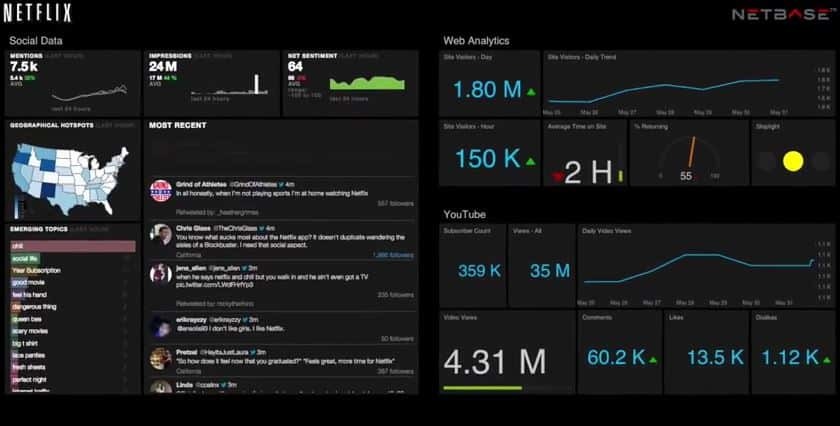 NetBase new Social Analytics Visualization Dashboards : NetBase LIVE Pulse Mashup, is an innovation specifically designed for the C-suite that combines NetBase best-in-class social analytics with other critical key performance indicators (KPIs) to help executives quickly see the state of the business and make smart decisions instantly. NetBase LIVE Pulse Mashup is a groundbreaking approach to the integration of social data and analysis with other business KPIs in a visual, command-center style that's customizable to support today's fast pace of business. It has the capability for more than 60 different integrations and can incorporate KPIs from all business departments including marketing, finance, customer care, operations and much more, to provide a comprehensive view. NetBase is a social analytics platform that global companies use to run brands, build businesses, and connect with consumers every second. Its platform processes millions of social media posts daily for actionable business insights for marketing, research, customer service, sales, PR, and product innovation.
Marketing departments for years has heavily leveraged social, and now for more strategic conversations in the C-suite. Executives review reams of reports and spreadsheets daily, but they need to receive information in a way that is real-time, digestible and can aide in making informed decisions.
"With NetBase LIVE Pulse Mashup, executives can finally see all the metrics that matter, all on one view," said Pernille Bruun-Jensen, CMO of NetBase. "Whether it's in the boardroom or the marketing department, this visualization helps provide immediate insight into share of voice, emerging topics, and campaign performance alongside news, shareholder metrics and web analytics. Social isn't the only piece of the equation, but it's an exceptionally valuable source and needs to be highly visible within any organization."
NetBase LIVE Pulse Mashup acknowledges the needs of the C-suite by providing real-time access to the KPIs that have historically guided the decision-making process, alongside the social metrics that offer insight into what consumers are saying right now. All of the data is displayed visually to support the turn-on-a-dime decisions executives must make. Users can choose which metrics to display, whether that's NetBase data on social media mentions, trending topics and net sentiment, or the more than 60 sources of 3rd party data from Google Analytics, Hubspot, Yahoo Finance, and others.