Review
Navvia Process Designer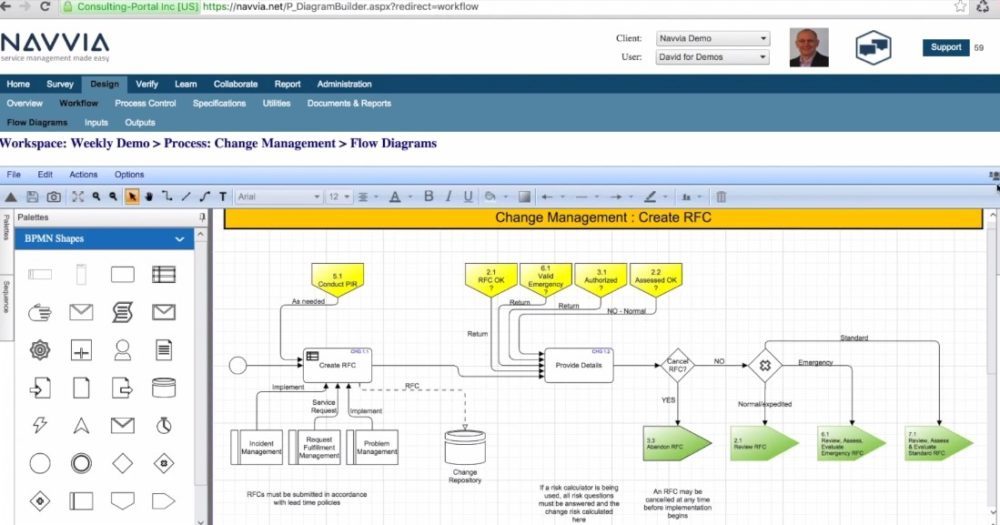 Overview
Navvia Process Designer is the easiest and most cost-effective way to design and document processes. With features such as prebuilt templates, easy to draw flowcharts, automated document creation, requirements gathering, and on-line collaboration & sharing, the Navvia Process Designer will save you time and money.
Business Process Management Software
• Create private spaces for clients or divisions within your organization
• Automatically generate process guides
• Visualize processes using flow diagrams, RACI charts and mind maps
• Create detailed technical documents
• Powerful reports and dashboards
• Assess process maturity and capability
• Implement process governance and controls
• Provide education and training to users
• Collaborate and obtain buy-in
• Unlimited user access
• Role-based access
• Easy user management
• Dedicated or concurrent licenses
• Free Trial – Free for 15 business days
• Enterprise - $13,490 per year
• Consultant - $20,230 per year
Small (<50 employees), Medium (50 to 1000 Enterprise (>1001 employees)
What is best?
• Easy to use Drag & Drop interface
• Powerful data model captures all elements of your process
• Capture requirements for process automation
• Leverage comprehensive templates
• Organize processes by workspace
• User-level permissions to control access
Navvia is a cloud-hosted advanced BPM and ITSM system which helps companies tailor, design, audit, and research industry-specific and personalized processes, cut implementation costs and automate the creation of documents and export them in the desired format to improve the services they provide to their customers in any type of business process.
Navia has features such as collaboration, data mapping, lifecycle management, process analysis, process capture, process change tracking, process mapping and process modeling and design. Navvia's Data Model captures all elements that are involved in the friendly and familiar drag-and-drop interface and premade templates to design beautiful processes where Navvia allows users to also adjust capture requirements so that processes will be automatically edited, and all future changes will be reflected in them.
Navvia also makes it easy to produce and share process artifacts, automated process guides, RACI charts, flow diagrams, and mind maps where users can also generate complex technical documents, and report on users activity at any point of time which helps users evaluate the health of their processes, implement process governance controls, educate and train their customers.
Navvia is supported on a variety of browsers and operating systems via email, phone, or on site tickets where all Navvia documents are exportable as Microsoft Office and Adobe files, with a disaster recovery plan and a dedicated data backup center. Navvia will analyze the quality of users existing processes, depict opportunities for development, and verify their structures comparing them to standard control protocols such as ISO2000, Sarbanes Oxley and CobiT.
You may like to read: Top Open Source and Free BPM Tools and How to Select the Best Business Process Management (BPM) Software for Your Business