Microsoft delivers Spark for Azure HDInsight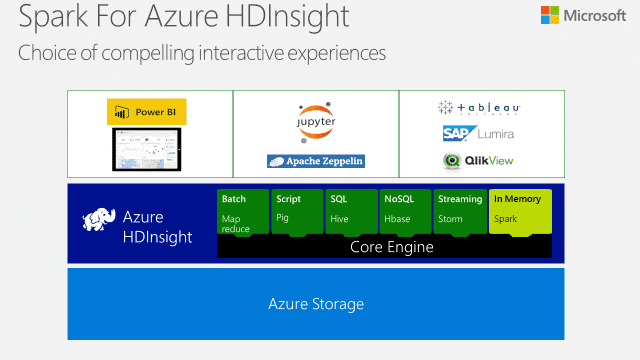 Microsoft delivers Spark for Azure HDInsight : Microsoft empowers users and organizations to achieve more by making data accessible to as many people as possible and provides out-of-the-box integration to Power BI for interactive visualizations over big data. Apache Spark is an open source processing framework that runs large scale data analytics applications in-memory which allows Spark to deliver queries up to 100 times faster than traditional big data solutions. Spark cluster can be deployed and visualize it in Power BI within minutes without investing in hardware or complex integration.
This enables the Data scientists to use popular notebooks like Zeppelin and Jupyter to do interactive analysis and machine learning to create narratives that combine code, statistical equations, and visualizations that tell a story about the data with Spark for Azure HDInsight.Microsoft also offers flexibility to use BI tools like Tableau, SAP Lumira, and QlikView.