MetaPack and JDA Parcel Surging Ahead of Average Industry Orders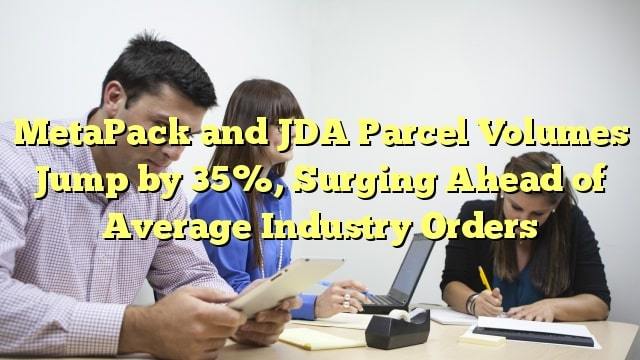 MetaPack, the global leader in eCommerce delivery management and JDA Software Group, Inc., a leader in end-to-end, integrated retail omni-channel and supply chain solutions, have announced a significant jump of 35% in year-on-year deliveries made across their platforms. The figure is almost three times higher than the cuJDA Software Group, Inc.mulative year on year volume growth rate (which at the end of September was at 13.6%*) for dispatched orders across the UK's e-retail sector.
"This fantastic growth is not just indicative of a general expansion in the UK eCommerce market, especially amongst some of our own retail customers, but more particularly the focus that eCommerce Directors are now placing on high quality, on-time delivery services that meet consumers' needs and also support profitability," said Bruce Fair, chief revenue officer at MetaPack. "The levels of sophistication and functionality that both the JDA and MetaPack platforms offer means that omni-channel retailers can take advantage of recent innovations such as same day delivery, lockers and pick-up points thus improving consumer loyalty and ultimately increasing delivery volumes."
A number of the UK's leading retail omni-channel brands are using both the JDA and MetaPack solutions to ensure their delivery offers can be fulfilled on-time. The complementary platforms have become essential tools in the armoury of retailers, who recognise that by meeting their delivery promises on-time every time they are building long-term customer loyalty.
"As the UK online retail market continues to grow, so too are customers' expectations. It is therefore imperative that retailers' online fulfilment capabilities are up to par, otherwise they risk damaging customer relationships," commented Jason Shorrock, senior director, retail strategy at JDA. "The combination of JDA and MetaPack's platforms help omni-channel retailers to improve operational efficiency, so that on-time and first-time delivery is made in line with customer's expectations and at higher levels than before."