Meta4 forms an alliance with Ingentis, the expert in organization charting solution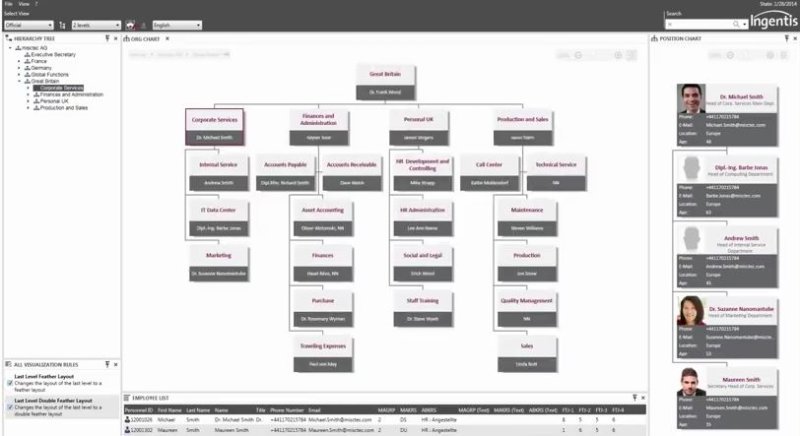 Meta4 forms an alliance with Ingentis, the expert in organization charting solution : Meta4, a world-class leader for human and intellectual capital management (HICM) has just announced an alliance with Ingentis, a company specializing in add-on solutions for viewing organization charts. Owing to this agreement Meta4 has incorporated a powerful organization charts viewer, Ingentis org.manager into its HR solutions offer. This software is capable of graphically depicting the structure of a company, its levels of hierarchy and the relationships between these. Thanks to this add-on solution complementing the Meta4 HR software, companies—especially large ones—can create, personalize and publish their organization charts automatically in just a matter of minutes. Visualizing any kind of organization chart offers a clearer overview of all its structures alongside all the information needed for analysis and decision making.
According to Pilar Gallo, Alliances Director at Meta4, "At Meta4 we seek to constantly optimize and develop our solutions. Reckoning with the calibre of tools from a company like Ingentis fits perfectly with our business vision."
"Given our current expansion drive, this alliance is a major step forward for us", adds Michael Grimm, Ingentis Management and International Sales.
Meta4, with 1,300 clients in 100 countries, manages more than 18 million people worldwide through its software. Meta4 R&D&I centres in Europe and the Americas develop advanced applications to fully address both local and global needs for any company, regardless of size and complexity. Meta4 cloud solutions offer HR professionals state-of-the-art technology with the best possible user experience for managing the complete employee cycle, from payroll and personnel administration through to global talent management. These all-in-one solutions leverage cloud benefits to overcome all the challenges of all aspects of human capital management, while increasing business productivity and efficiencies.
Ingentis is the software company for HR add-ons and business applications. The company was established in Nuremberg in 1997. We advocate fair, reliable business relationships and develop our software in collaboration with our customers. Worldwide more than 1000 companies like Coca Cola, Datev, Nestlé, Siemens, Uvex and Volkswagen, trust in this honest, successful approach. Our range of services encompasses the development of customized company, web and mobile applications.