Review
Medismo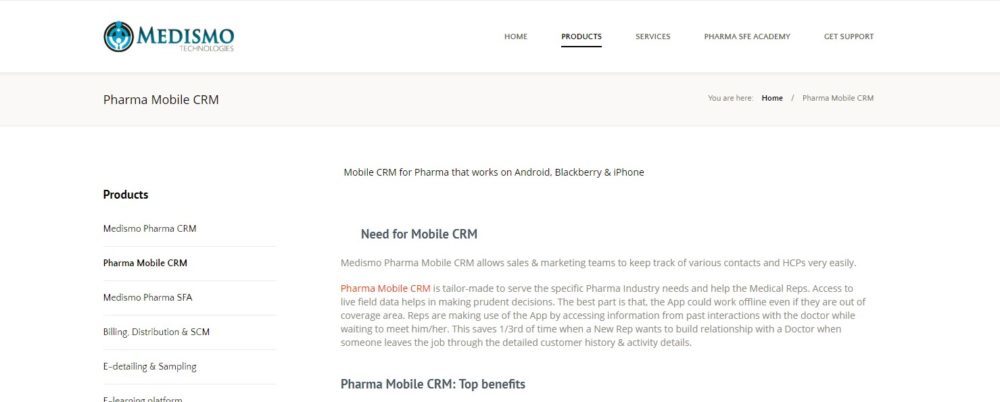 Overview
Medismo Pharma CRM links the Company Headquarters, regional offices and Medical representatives from any location in the world. Medismo Pharma CRM Dashboard generates more than 55+ types of reports which cover daily visits to Doctors & Chemists
CRM Software Pharmaceutical
• E-detailing & E-sampling
• Specialty Care Management
• Cost Center & Profit Center Management
• Integrated Closed Loop Marketing (CLM)
• 360° view of Doctors, Stockists & Retailers
• SCM & Accounting Integration
• Contact the company to obtain current pricing.
Small (<50 employees), Medium (50 to 1000 Enterprise (>1001 employees)
What is best?
• E-detailing & E-sampling
• Specialty Care Management
• Cost Center & Profit Center Management
• Integrated Closed Loop Marketing (CLM)
• 360° view of Doctors, Stockists & Retailers
What are the benefits?
• Micro Manage Territory development Costs
• Launch Custom Surveys
• Sales Rep Reporting on a Daily basis
• Achieve Better Targeting & Segmentation
• Secure exchange of information via bank grade encryption
Medismo Pharma CRM links the Company Headquarters, regional offices and Medical representatives from any location in the world. Medismo Pharma CRM Dashboard generates more than 55+ types of reports which cover daily visits to Doctors & Chemists.
Pharma Marketing & Sales organizations have adopted and deployed Medismo Pharma CRM with integrated Sales Force Automation (SFA) to help increase sales effectiveness, increase win rates, shorten the sales cycle and drive more revenue.
The power of Medismo Pharma CRM lies in managing the relationships. It is an all around effective communication channel for your Sales reps, managers and management to work on the same goal and always be on the same page.
Medismo Pharma CRM interconnects key divisions like Sales, Marketing, Regulatory & Customer Service departments thus your pharmaceutical company is always on top of the mind of doctors and other key stakeholders.
Medismo Pharma CRM has been written from the scratch to make the life of pharma sales and marketing staff easy . Pharma companies can now deliver key medical Information to prescribers, reduce uncertainty and improve satisfaction and co-create world class healthcare experience.
Medismo Pharma CRM comes with Territory Dashboard which tracks income and expenses and provides a holistic view of all the key activities of the territory. Medismo Pharma CRM simply drives more Primary Sales and Tracks Secondary sales.
Make informed decisions based on the order pipeline and market demand. Medismo Pharma CRM comes integrated with an optional SCM & Accounting module. It is hassle-free and gives centralized control of your stocks.
You may like to read: How to Select the Best CRM Software for Pharmaceutical Industry and Top Pharmaceutical CRM Software