Maximizer releases French Language edition Maximizer CRM 2015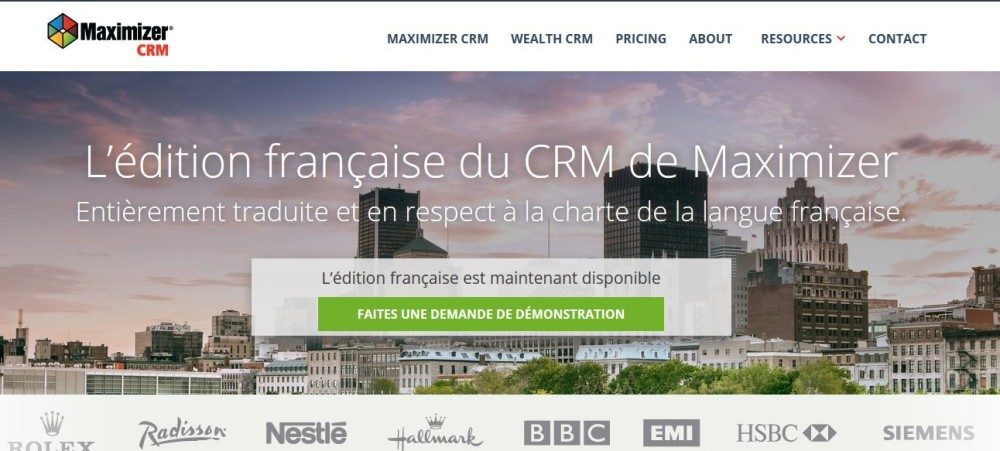 Maximizer releases French Language edition Maximizer CRM 2015 : Maximizer Services, a leading provider of Customer Relationship Management (CRM) solutions for mid-sized businesses, today released a French Language edition of its latest version, Maximizer CRM 2015. The French edition of Maximizer CRM 2015 includes all the features of the English language version, allowing users to conduct customer relationship management practices in French and adhere to French Language Charters in Canada and other regions. Maximizer CRM 2015 was launched in English on October 1st of last year, offering a deployment choice of On-Premise, Public cloud and Private cloud. The application gives users the flexibility to migrate from one deployment option to another at any time without risk of losing valuable customer interaction data.
"Our goal is to give our French language customers the best possible user experience," said Maximizer President Vivek Thomas.
The all-in-one relationship management solution comes with comprehensive sales, marketing and service modules, plus pre-built Excel report templates, anti-spam functionality, audit trails that track user changes to the database, security and much more. Since 1987, Maximizer has delivered Customer Relationship Management (CRM) software and professional services meeting the needs, budgets and access requirements of small to medium businesses and larger corporations. Simple, configurable and affordable, Maximizer CRM enables organizations in all industries and markets to increase sales, enhance marketing, and improve customer service while boosting productivity and revenues. Headquartered in Canada, with worldwide offices and business partners, Maximizer Services has sold over one million licenses to more than 120,000 customers.
"The French language edition of Maximizer CRM 2015 allow us to better support the almost ten million French language speakers in Canada, as well as those in other regions," added Thomas.