MapR Converged Data Platform with data governance and performance enhancements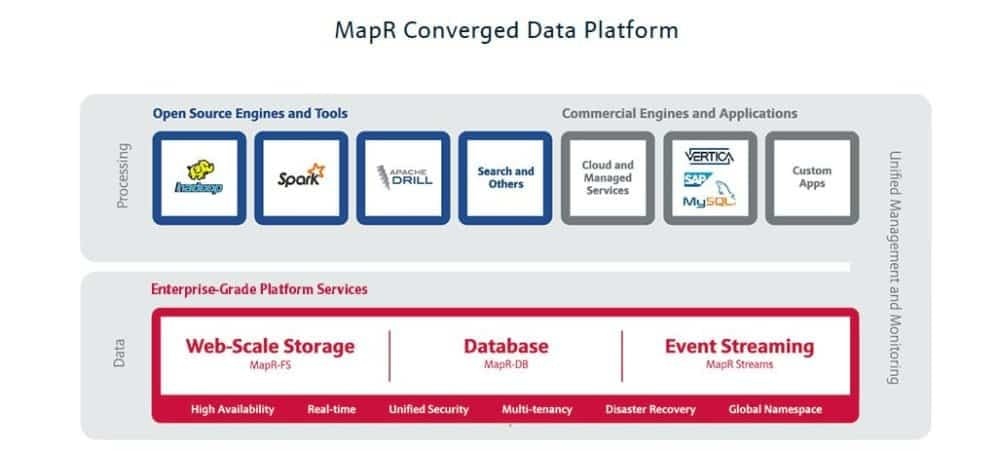 The MapR Converged Data Platform with new security, data governance and performance enhancements is uniquely architected to converge Hadoop with Spark, web-scale storage, NoSQL, and streaming capabilities into one unified cluster, enabling customers to deploy real-time global data applications with unprecedented scale and flexibility.
MapR Converged Data Platform gives customers new big data capabilities across MapR Streams, MapR-DB, and MapR-FS. Highlights include File and stream access control expressions (ACEs) simplify the granting of permissions to users and groups across data files and directories using Boolean expressions, making security administration more scalable and manageable. Whole volume ACEs add another level of protection for data files in MapR Volumes, and provides greater multi-tenancy controls to guarantee that data is only available to specific groups. This is especially useful in hosted customer-facing SaaS applications to absolutely ensure that no client can access another customer's information.Selective auditing provides flexibility to track only the required activities to audit and/or analyze, giving flexibility in auditing while optimizing system performance.
It is optimized for multi-tenant containerized environments. Apache Myriad enables infrastructure consolidation by sharing all data center resources between YARN and non-YARN jobs. MapR leverage Myriad to create extended multi-tenant environments, especially ones that take advantage of Docker containers in a fully distributed read/write platform.
It is extremely fast performance across the Platform. MapR-DB, now with native JSON support, is performance optimized for SSDs with highly parallelized I/O access to NoSQL data for real-time operations.
"We've listened closely to our customers who drive their business on MapR and delivered the industry's first and only converged data platform built on technology innovations exclusive to MapR," said Anoop Dawar, vice president, products Hadoop and Spark, MapR Technologies. "Customers gain a strong competitive advantage with platform-wide real-time capabilities to process and analyze data instantly so they can focus their teams on delivering business insights, not on managing infrastructure."
MapR provides the converged data platform that integrates the power of Hadoop and Spark with global event streaming, real-time database capabilities, and enterprise storage, enabling customers to harness the enormous power of their data.