MapR Auto-Provisioning Templates to Speed the Deployment of Hadoop Clusters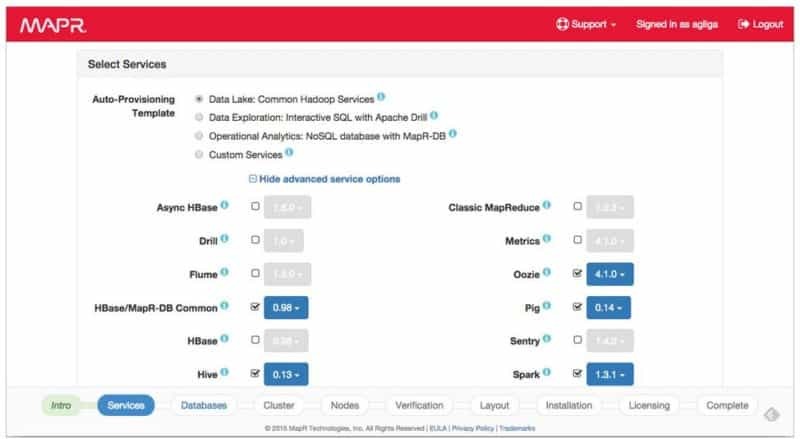 MapR Auto-Provisioning Templates to Speed the Deployment of Hadoop Clusters : The comprehensive MapR Auto-Provisioning Templates apply software-defined concepts that will enable organizations to quickly deploy a cluster with appliance-like convenience and with the flexibility and choice of building a custom, enterprise-grade data platform.The MapR Auto-Provisioning Templates provide organizations with flexibility to deploy purpose-built big data solutions on their hardware infrastructure of choice, whether it be directly on hardware servers from a variety of vendors, a virtualized private cloud, or a public cloud provider. The Auto-Provisioning Templates provide the simplicity of appliances yet also support the efficiency and hardware diversity that production Hadoop clusters typically require. The Auto-Provisioning Templates also let customers expand their deployment at increments they define and need, rather than at the homogeneous "stair-step" increments that a rack-based appliance requires.
"The MapR Auto-Provisioning Templates leverage software-defined concepts to create a new kind of appliance for modern, real-time Hadoop applications," said Anil Gadre, senior vice president of product management, MapR Technologies. "Customers are asking for software-defined abilities to address many of their business and IT objectives. We've simplified that process and enable organizations to choose the components they want to meet their big data infrastructure needs."
Auto-Provisioning Templates define the software, network and hardware attributes of a single node, as well as support diverse definitions required across many nodes. Auto-Provisioning Templates easily support the deployment of the following configurations:
• Data Lake: Common Hadoop Services – Includes the most common services deployed in an Apache Hadoop cluster, including YARN, MapReduce, Spark, and Hive–all on top of the big & fast MapR Data Platform for getting started with a Hadoop data lake.
• Data Exploration: Interactive SQL with Apache Drill – Provides services needed for users to perform schema-free interactive exploration of their data, including Apache Drill.
• Operational Analytics: NoSQL Database with MapR-DB – Deploys the MapR distributed NoSQL database, enabling both operational HBase applications to read and write data at high rates, and analytic applications to perform in-situ data processing.
Users deploy MapR Auto-Provisioning Templates via the MapR Installer, which further simplifies the deployment of MapR software by providing:
• Auto-layout - Hides the complexity of deciding how to best distribute Hadoop and other services across servers, selecting the optimal layout for the services selected and hardware provided
• Rack awareness - Automatically distributes critical services across failure domains
• Health checks - Executes a suite of tests on all servers to ensure they will perform optimally after installation, and warns users of potential issues
MapR delivers on the promise of Hadoop with a proven, enterprise-grade platform that supports a broad set of mission-critical and real-time production uses. MapR brings unprecedented dependability, ease-of-use and world-record speed to Hadoop, NoSQL, database and streaming applications in one unified distribution for Hadoop. MapR is used by more than 700 customers across financial services, government, healthcare, internet, manufacturing, media, retail and telecommunications as well as by leading Global 2000 and Web 2.0 companies.