Review
ManyWho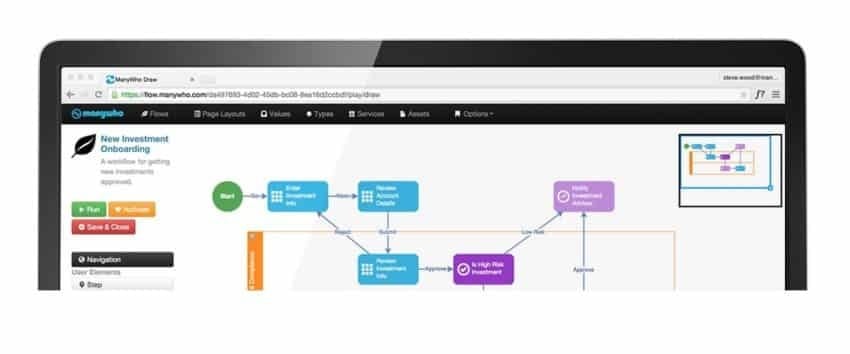 Overview
The ManyWho Application Development Low Code Platform allows you to deliver fast, without building a mountain of code.
Low-Code Development Platform
• Flow Diagramming
• Collaborative Editing
• Dynamic Forms
• Responsive Forms
• Sharing
• Multi User
• Social Collaboration
• Location
• 100% Free To Start then starts from $15/user/month, Usage pricing from $995/month, Minimum spend of $400/month
Small (<50 employees), Medium (50 to 1000 Enterprise (>1001 employees)
What is best?
• Realtime Debugging
• Synch & Asynch Executions
• Connectors
• Full API Access
• Internationalization Support
• White Label
What are the benefits?
• Report Using Excel
• UI Mash Up
• UI Front End
• Open Data
• Business Objects
• Data Bindings
ManyWho cloud platform makes it super easy to turn your business processes into engaging, responsive, social software applications. Drag-and-drop your business processes and simply draw your business processes as flow diagrams and we magically turn them into fully functioning software applications. ManyWho combine the best of collaboration with the best of business workflow to power your applications and work with your existing databases, social networks and content repositories to deliver a unified experience.
The platform architecture of ManyWho is based on a simple approach: it defines the user's workflow application using metadata instead of code and it's all managed in the app data cloud. The application metadata includes: page layouts, logic, business rules, permissions, etc. The application becomes an API. Users interact with it using something called a "player" which delivers the user experience; it has been open-sourced to make it more adaptable. Content is managed separately from website theme.
This makes sure user's experience is consistent and radically reduces any coding. In addition, the same engine powering an application in the cloud is able to run directly on the device without changing the player – it makes the applications always prepared to be used. In case the responsive design in the standard player isn't enough, simply adapt it all the while the application's metadata remains the same. The applications are all APIs. ManyWho comes with a platform that offers a completely open architectural stack based on REST APIs.
This allows developers to tap into our platform at various levels using their language of choice: Java, C#, Ruby, NodeJS, etc. A library of integration connectors is also provided to minimize the need for coding during integration with products such as Salesforce and Box. Eventually, having an open stack platform delivers the added benefit of good customer success. Drag and drop the workflow applications using ManyWho's cloud-based editing tools. Build page layouts, page conditions, navigation, logic and permissions. Also add file management, tables and search etc.
You may like to read: Top Free, Premium & Open Source Workflow Automation Software and How to Select the Best Workflow Automation Software for Your Business