Manitou Group Chooses Syncron to Optimize its Inventory Network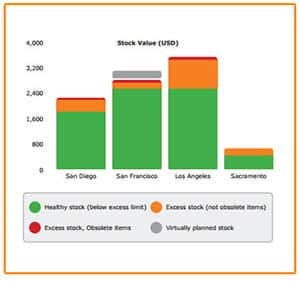 Manitou Group, the world leader in all-terrain material handling, has selected Syncron's Inventory Management software to optimize its network of more than 1,400 dealers in 140 countries.Syncron's Inventory Management system provides a central approach to managing inventory, which gives companies the ability to plan across the entire supply chain to optimize and right-size inventory. Manitou began using Inventory Management earlier this year in their main global distribution warehouse located in Ancenis, France. Implementation for its regional warehouse in the United States is scheduled for completion in January 2016; the company's remaining six regional warehouses will follow shortly thereafter. As a second phase of the project, the solution will be rolled out to all Manitou dealers. Ultimately, Syncron's Inventory Management will act as a single tool providing Manitou complete global supply chain visibility and optimization.
"To support our business growth, we needed to homogenize our inventory systems around the world," said Wim Vercauteren, vice president, business unit spare parts at Manitou Group. "Each of our eight logistics centers has been speaking a different language, and we need uniformity on a worldwide level in order to optimize our spare parts inventory. Syncron's cloud-based platform will provide that for us."
Syncron Inventory Management will contribute to the improvement of the efficiency of Manitou's stock management. It will even manage slow moving and erratic parts in a more efficient way when the pattern of demand is difficult to predict. This will lead to a reduction in excess inventory as well as improvement in the availability of parts. Initial results from the implementation in Ancenis indicate a potential 30 percent reduction in inventory alongside an increase in availability between 10-15 percent.
"We are pleased to support Manitou in reaching such great results," said Tony Abouzolof, managing director of Syncron UK. "And what makes it even better is, because the Syncron system is automated, Manitou will spend less time overseeing the inventory process. They will be able to manage by exception and focus more time on growing the business."
The implementation in Ancenis was unique in that the software needed to be readable in French so all local employees could easily use it. The Syncron team worked closely with representatives of Manitou to translate the front-end screens and create a user-friendly end product.
"There is a tremendous passion behind this project on both sides," said Vercauteren. "The teamwork between Syncron and Manitou is great. Both teams motivate and support each other."
"We have a lot of very talented people working within Syncron," said Johan Stakeburg, president, Syncron. "I am proud of our ability to deliver quality solutions and high-end customer relationship management for every customer we work with."