Review
Mambo.IO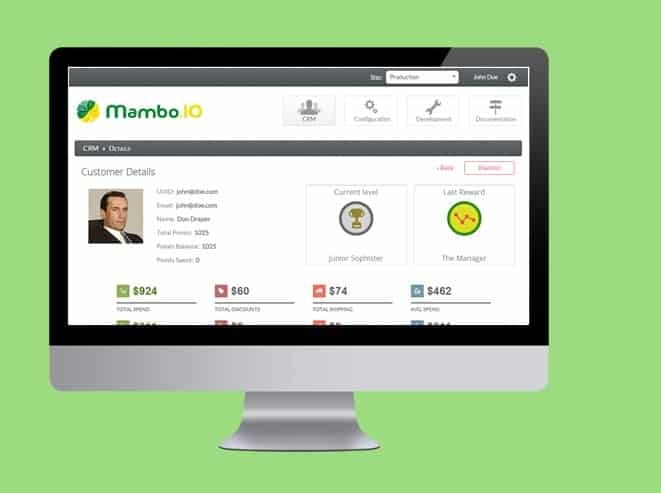 Overview
Mambo.IO platform improves customer loyalty and sales, developing stronger community engagement and creating captivating product experiences are all possible solutions.
•Commercial support
•Open source
•On-premise
•On demand
•Powerful engine
•Rewards System
•Notifications
Small (<50 employees), Medium (50 to 1000 Enterprise (>1001 employees)
What is best?
•Custom Points
•Leaderboards
•Activity Stream
•CRM
•Tags / Personalization
The Mambo.IO platform is feature rich and comes with a complete behaviour tracking system, advanced rewards, instant notifications, custom point system, leaderboards, activity streams, purchase tracking, coupons and many more.
The Mambo.IO platform can be used to increase customer loyalty, boost employee productivity and stimulate the adoption of elearning and training systems.
Customer Loyalty: When it comes to purchasing goods or using products, customers have a wide variety of choices, which is why more than 50% of customers will not hesitate to buy or use a competitors product after doing business with you. Gamification and the Mambo.IO Platform will help you drive long-term customer loyalty and user engagement with your products and services.
Mambo.IO provides an on-premise and extensible Enterprise Gamification Platform. The Platform can be integrated into any system in order stimulate customer loyalty and increase employee productivity .
Mambo.IO offers a fully featured gamification platform comparable to the top platform providers in the market. Scroll down to see some of the features. Thanks to it's Open Source nature, the Mambo.IO platform can be easily extended.The Mambo.IO Platform makes it incredibly easy to configure different types of rewards aligned to your business objectives and users needs.
The contextual and personalised nature of the rewards system allows it to fit seamlessly into your existing applications and websites. Use contextual information to reward users for interacting with specific products, content or business processes. Use personalisation to reward groups of users who share common traits such as organisational department or job title.
Create time-bound and resettable rewards to incentivise repeat behaviours or meet recurring objectives. Combining a set of behaviours into a coherent group is what defines a business process which will ultimately drive your business objectives. These coherent groups of behaviours can easily be mapped onto the Mambo Platform by using the missions feature.The Mambo.IO platform is also available as an On-demand service.