Review
MailZak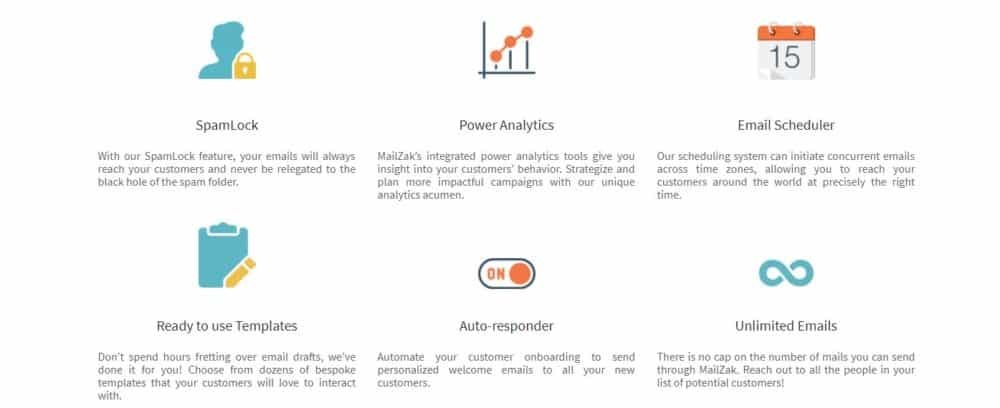 Overview
MailZak makes your email marketing effective and effortless. We do the heavy lifting so you can focus on your customers and your business. MailZak analyses how customers interact with your emails and arms you with powerful analytics tools to reach the right people at the right time.
Email Management Software
• SpamLock
• Power analytics
• Email scheduler
• Ready to use templates
• Auto-responder
• Inflammable - $12/month
• Explosive - $24/month
• Destructive - $49/month
• Nuke - $89/month
Small (<50 employees), Medium (50 to 1000 Enterprise (>1001 employees)
What is best?
• Unlimited emails
• Integrated power analytics tools give you insight into your customers' behavior
• Scheduling system can initiate concurrent emails across time zones
• Automate your customer onboarding to send personalized
What are the benefits?
• Gives a boost to your email marketing.
• Makes email marketing effective & simple.
• Ease of use.
• Analyses how customers communicate with emails.
• Powers your marketing campaigns without much effort.
• Takes into consideration how user behaves with emails.
MailZak is a software that does all the heavy lifting in terms of email marketing, so that your growing business can focus on what matters most. It makes your email marketing effortless. It does this by effectively analyzing the way in which your customers interact with your emails. It seeks to find out whether your customers open your emails, or are your emails marked as spam or find out even if they are actually delivered.
MailZak helps you target the right people at the right time. MailZak sends mails with all the trusted services like Amazon, SendGrid and Sparkpost among others, saving you money, time and stress levels. Just one simple set-up is all it takes to get started.
It helps your business to do its email marketing right. It has a SpamLock feature that ensures that your customers will always receive your emails as opposed to being relegated to the spam folder. It has a power analytics tool that gives you insight into your customers' behavior. With this tool, you will be able to plan campaigns that will have more impact, using an analytics acumen. It has an email scheduling system that is able to initiate concurrent emails across time zones.
This will allow you to reach your customers around the world at the right time. The ready to use templates provided by the software ensure that you don't spend so many hours fretting over email drafts, as it will be automatically done for you.
You will have at your disposal dozens of bespoke templates to choose from that your customers will love to interact with. It also has an auto-responder feature that works by automating your customer onboarding so as to send personalized welcome emails to all your new customers. MailZak has another feature that enables you to have unlimited emails with no cap on the number of mails you are allowed to send. This ensures that your company will be able to easily reach out to all your potential customers.
You may like to read: Free & Top Transactional Email Software and Free & Premium Email Marketing Software