m2ocity Collect and Process Up to Four Million Pieces of Data per Client Daily with Talend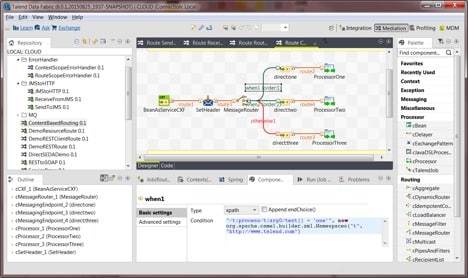 m2ocity Collect and Process Up to Four Million Pieces of Data per Client Daily with Talend : m2ocity, a remote data reading operator, selected the Talend Application Integration platform to coordinate the collection and processing of data from its vast network of over 1.6 million "objects" across 2,000 cities. The Talend solution not only allows m2ocity to process large volumes of data generated by its millions of smart meters daily but also distributes that data quickly in a user-friendly format that enables customers to develop new value-added services.
Deployment of IoT is certainly happening, and the trend is growing – Gartner forecasts a growth rate average of 35 percent per year through 2020. Further, Gartner asserts that leveraging IoT will allow enterprises to be presented with a wide range of opportunities that will result in significant benefits such as enhancements to overall business model, increased operating efficiency, and greater focus on outcome. m2ocity, a subsidiary of Veolia and Orange, operates a telecommunication network that monitors and collects over 3.5 million pieces of data daily from water, environment, gas meters or other types of sensors. At the same time, the company continuously monitors the network status, which collects more than 15 million pieces of data daily.
"Faced with these growing stores of information, we were forced to industrialize the way we collect and process our data," explains Christophe Roussel, Head of IT Infrastructure Operations at m2ocity. "We selected Talend after looking at four main competitors, and decided that it was the most cost-effective, full-performance solution for the functionality we needed with all the added ease of use benefits — such as quick installation, seamless management, simple employee training and the ability to deploy new services on the platform as our needs changed and grew."
The Talend Application Integration platform allows companies to increase business productivity, deliver projects faster, at lower operating costs. As part of the Talend Data Fabric, Talend Application Integration provides a high-speed services backbone and enables customers to build a service-oriented architecture to connect, mediate and manage services in real time. The exponential growth of the number of m2ocity's connected devices caused an automatic surge in the amount of data that the company processes each day. A new solution was needed. Thus, the company developed a model using the Talend Platform for Data Services with the goal of processing 60 messages per second. The results of the solution's capabilities exceeded expectations: With Talend, m2ocity was able to process more than 300 messages per second.
"The Talend Application Integration platform has proven to be an invaluable asset," adds Xavier Diab, IT Project Manager at m2ocity. "It allows us to collect other types of data — such as temperature, electricity, pollution, etc. and to use data analysis to develop innovative services such as leak alerts and the detection of blocked meters. The speed at which the system develops and integrates new components speeds our ability to bring new services to market — giving us a competitive advantage."
The Talend Application Integration platform is coordinating the collection, consolidation, processing and delivery of data to m2ocity's more than 200 customers, with a cadence dependent upon each customer's need.
"m2ocity's experience is proof that the Talend Application Integration platform is perfectly suited to collect and process IoT data in real time, in terms of performance, volume and speed," said François Mero, Senior Vice President of Sales, EMEA, Talend. "Combining performance, agility and ease of use, the m2ocity solution and the Talend Application Integration platform are a natural fit — together they are pushing the boundaries of real-time integration."