Review
LogRhythm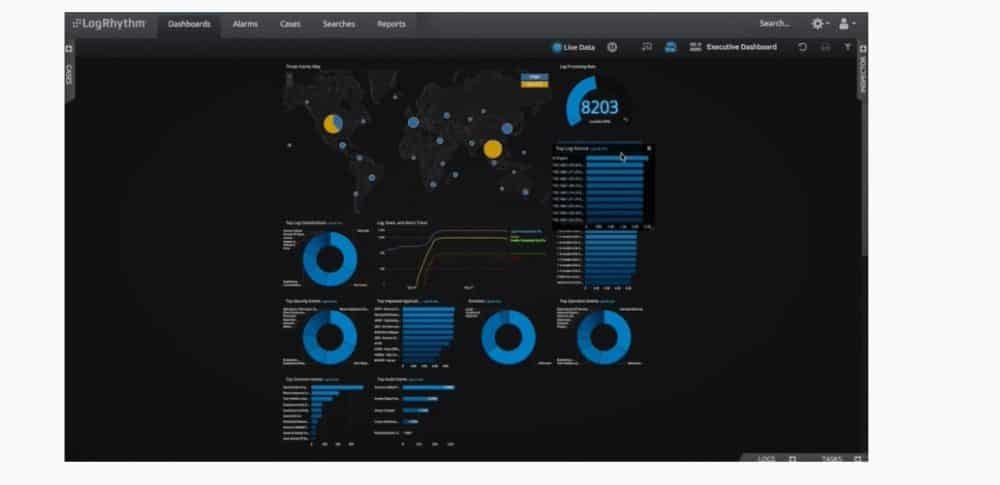 Overview
LogRhythm's Threat Lifecycle Management Platform provides a complete, end-to-end workflow so you can sort through the noise and quickly discover, investigate, and respond to cyberthreats.
Security Information and Event Management Software
Threat management
User behavior analytics
Network threat detection
Endpoint threat detection
Cyber crime detection
Threat intelligence
Small (<50 employees), Medium (50 to 1000 Enterprise (>1001 employees)
The LogRhythm Security Intelligence Platform is a security information and event management (SIEM) product for enterprise use. It is used to collect security event log data from software throughout an enterprise, including network security controls, operating systems and user applications. The SIEM tool analyzes the data to identify possible signs of malicious activity so humans or automated processes can stop attacks in progress or help recover from successful attacks. SIEM platforms such as LogRhythm's also generate detailed reports on security events that can be used to document compliance with security regulations, laws and other requirements. LogRhythm's SIEM platform is available in several formats, including an all-in-one bundle or distributed components, and as hardware-based appliances, server-based software and virtual appliances (supported by VMWare ESX, Microsoft Hyper-V and Citrix XenServer). These last three formats -- hardware, virtual and server software -- can be mixed and matched as needed within a single LogRhythm Security Intelligence Platform implementation. In addition to providing all the traditional core SIEM functions, LogRhythm's SIEM platform offers a range of advanced security capabilities. First, for organizations that want to improve the accuracy of their SIEM product's threat detection, LogRhythm's Security Intelligence Platform supports the use of geolocation feeds and threat intelligence feeds through separate subscriptions. Organizations can choose from any of several threat intelligence partners and can use one or more of their feeds with the LogRhythm Security Intelligence Platform. The reporting capabilities offered by the LogRhythm SIEM product are more extensive than any other major enterprise SIEM product, with built-in support for over 800 report formats. This built-in support includes reporting for many major security compliance initiatives.