Review
LogicGate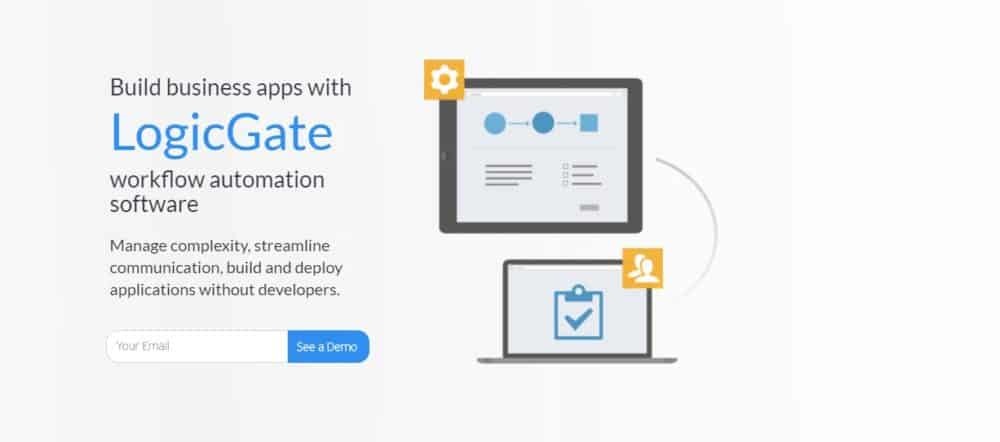 Overview
LogicGate helps organizations reduce mission-critical risks and damaging compliance violations with the first 'agile GRC' platform.
Workflow Automation Software
• Create Email Notification Rules
• KPI-Based Reports
• Role-Based Access Control
• Mobile Enabled
Small (<50 employees), Medium (50 to 1000 Enterprise (>1001 employees)
What is best?
• Visually Design Business Process Steps
• Create Custom Handling Rules that Route Assignments
• Build Tasks From on a Library of Templates
• Intuitive Form Designer
• Set SLA & Due Date Indicators
What are the benefits?
• Enhance controls. Increase flexibility. Reduce risk
•Transparency needed to collaborate, audit, and streamline work
•'agile GRC' platform
LogicGate is a cloud-based governance, risk management and compliance (GRC) solution which offers enterprise risk, regulatory change, policy, incident, audit and case management capabilities within a suite for businesses of all sizes in financial services, pharmaceuticals, life sciences, healthcare, energy, retail and education industries.
LogicGate has features such as business process control, compliance management, enterprise risk management, regulatory change management, investigation and audit management, policy and document management, FCPA compliance management, corporate integrity agreement management, IT help desk management, incident, document tracking and case management, auditing, full text extraction, operational risk analysis, FDA and HIPAA compliant, data mapping and topic clustering, on-the-fly query designer, drag-and-drop interface, email notifications, assignment routing, template library, advanced analytics and ediscovery audio review.
LogicGate allows companies to remain compliant, increase transparency, assess and modify rules and minimize enterprise risk by updating the policies, procedures, controls and training and communicates changes to users. Once an app has been deployed, users get automatic notifications including request for information, approval and document creation which makes it easier for managers to track progress and spot bottlenecks before they start causing real problems for their enterprises.
LogicGate has an intuitive UI which makes it easier for users to create custom logic and build custom-workflows from scratch and a feature-rich template which allows solving many common business problems in areas including, operations, GRC, IT and legal. LogicGate has a library of software's predefined tasks which include legal, regulatory and compliance processes. LogicGate also has a query designer where visual reports can be generated in no time for the management to make more informed decisions and avoid bottlenecks.
You may like to read: Top Free, Premium & Open Source Workflow Automation Software and How to Select the Best Workflow Automation Software for Your Business