Review
LivePerson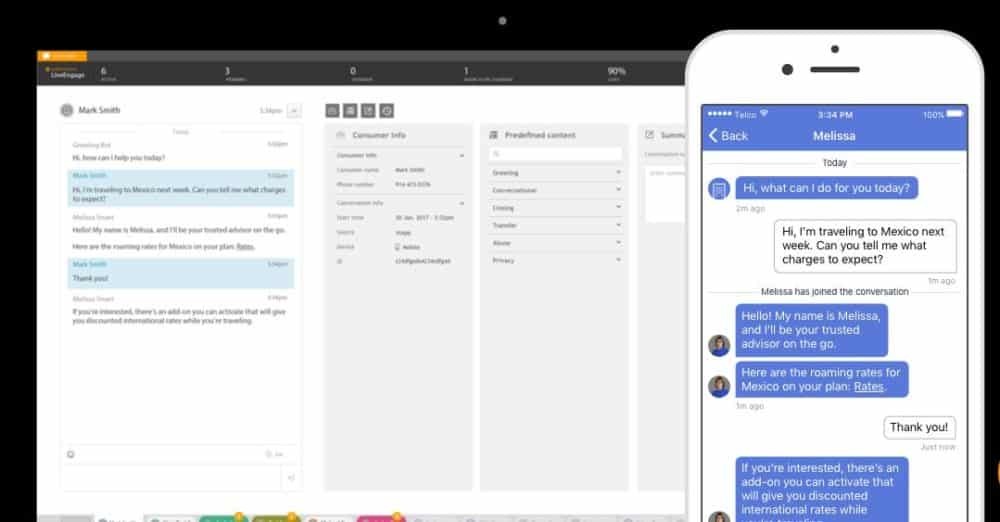 Overview
LivePerson cloud-based software platform, LiveEngage, allows brands with millions of customers and tens of thousands of care agents to deliver messaging at scale
Customer Engagement Platform
•Mobile & Web Messaging
•Customer Care Professional Features
•Reporting & Analytics
•Customer Satisfacton Scoring
Small (<50 employees), Medium (50 to 1000 Enterprise (>1001 employees)
What is best?
•Mobile & Web Messaging
•Customer Care Professional Features
•Reporting & Analytics
•Customer Satisfacton Scoring
LivePerson is an interactive platform which joins the leading brands from around the world who care about connecting with their customers. LivePerson, let's business managers message consumers through the channel of their choice.
Whether on website, app, or mobile web, engagements can be set up anywhere and customized however as per desire. Consumers can contact managers or, more importantly, continue a conversation with them— starting off wherever it's most convenient for them. LivePerson sets consumers' expectations and provides a high level of service, LivePerson messaging app tells customers when they can expect a response.
For urgent issues requiring more immediate attention, certain consumers can elect to mark their inquiries as urgent to have them handled more quickly. LivePerson encourage callers to find immediate service through messaging (it probably won't take much). LivePerson lets VIPs or people with simple inquiries jump to the front of the line .Live Person's Interactive Voice Response (IVR) can send an SMS inviting the caller to launch a mobile messaging conversation for more immediate service.
Stay connected with consumers through mobile messaging and never miss an opportunity to create a meaningful connection. LivePerson solves some of the most challenging engagement problems, not only within the realm of customer service, but also with online sales and online marketing. Real-time engagement is no longer limited just to chat, but now includes voice, video, and targeted offers or banners.
LivePerson clients are engaging their customers not only on their websites, but on their mobile apps, mobile sites, social media, and even print media via QR code. And rather than just offering a static button on a web page, LivePerson clients are able to harness the extraordinary amount of available data to gain a real-time understanding of each visitor's needs enabling them to proactively engage visitors at the right time.