Review
LiveHive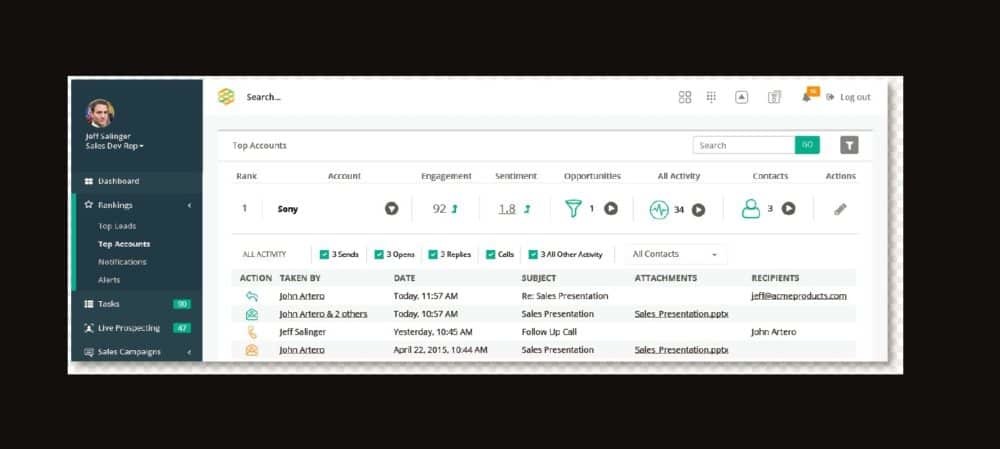 Overview
Live hive is a sales engagement and analytics platform to boost a team's performance and automates deals follow-up to boost buyer engagement insights that drive repeatable sales processes.
Marketing Analytics Software
• Access Salesforce email templates from email client
• All functionality delivered for any digital content
• Customized email templates
• Deep insights on prospects' interests
• Email tracking
• Enables most up-to-date customer profile
Small (<50 employees), Medium (50 to 1000 employees), Enterprise (>1001 employees)
What is best?
• Engagement analytics sync'd with Salesforce
• Follow-up effectiveness analytics
• Free for single user with up to 5 prospects
• Fully integrated with Act-On marketing software
• Get prospect's interest level
• Group emailing with individual tracking
• Improve forecast accuracy
• Page-by-page view metrics of prospect
• Provides profiles for recipients of forwarded documents
• Real-time alerts of email and document views
• Top prospect ranking
• Updates or termination of access to documents after sending
What are the benefits?
• Seamless Integration with the CRM and increases productivity and saves time.
• Insight into how a sales proposal is being shared and digital insights to understand prospects.
• Understand the effectiveness of sales follow-up and quickly access the most qualified leads for timely follow-up.
• Understand prospects' interests with engagement analytics and power a more accurate forecast.
• Access customized email templates right from the inbox and Auto-sync all engagement analytics right into Sales force CRM.
• Get Automatic Synchronization with Sales force or Microsoft Dynamics CRM.
• Real-time visibility and Auto Updates of the lead status.
• Email and Content Tracking from the Inbox and there is no disruption to workflow.
• Best-in-class sales tools accessible on single unified platform and end-to-end view across the sales cycle.
• Enjoy greater choice with an open ecosystem of sales tools and makes prospecting easy.
• Using a drag and drop interface, content creators can sequence together email templates, sales scripts, and ad-hoc reminders that automatically create tasks for the rep.
• Increase productivity with coaching and Sales rep scorecard.
Live hive is a sales engagement and analytics platform to boost a team's performance and automates deals follow-up to boost buyer engagement insights that drive repeatable sales processes. Live Hive intelligently orchestrates the account based sales process giving a global view of each account and deep insights into when and how to reach each prospect to drive higher deal value and faster sales cycles. LiveHive combines best in class customer engagement tools, workflow automation, and actionable intelligence that enables sales teams to engage with the buyer throughout the buyer journey; maximizing efficiency, deal value and closing velocity. LiveHive has the deepest set of analytics in the sales engagement space, with analytics for email templates, documents, page level insights for documents, and full campaign analytics for A/B comparison and more. The platform tracks and analyzes the core sentiment of contact replies. LiveHive identifies the top accounts through Account Rankings enriched with real time data. LiveHive can track the lead or contact from prospect to close and give sales reps and management deeper insights into what is working from the beginning to end of the sales cycle. LiveHive tracks document engagement down to the page level, give reps insight into how contacts are viewing documents. LiveHive tracks sales campaign and provides robust analytics on sends, opens, replies, unsubscribes, and connects. LiveHive analyzes the existing account data to reveal who the target buyer persona is within the company, giving reps greater insights into how to prospect. LiveHive tracks sales engagement activity and provides real-time notifications on the desktop using LiveFeed. LiveHive includes an industry leading sales campaign process called SmartPath, companies can create short bust campaigns, or long drip campaigns that can be shared across the subscription. LiveHive extends the functionality of sales campaigns with responsive tasks. LiveHive makes it easy to seamlessly work with email wherever the rep works. LiveHive allows users full access to send just the right type of emails.