List of Text Analytics Startups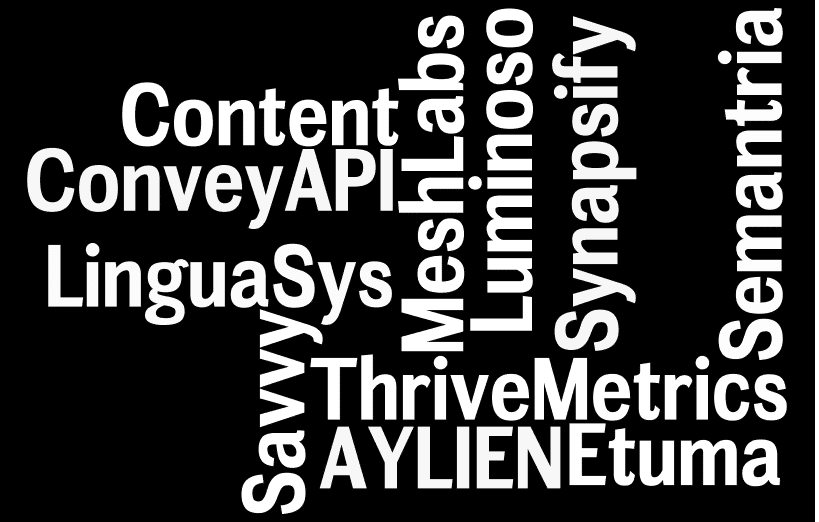 List of Text Analytics Startups : Text Analytics solutions convert unstructured text data into meaningful data. Text mining usually involves the process of structuring the input text, such as parsing, along with the addition of some derived linguistic features and insertion into a database, deriving patterns within the structured data, and evaluation and interpretation of the output. Typical text mining tasks include text categorization, text clustering, concept extraction, entity extraction, production of granular taxonomies, sentiment analysis, document summarization, and entity relation modeling. MeshLabs, LinguaSys, Semantria, Luminoso, AYLIEN, Etuma, Synapsify, ConveyAPI, SpazioDati, Contix, Signal Media, WholeMeaning, NomNom, Bitext are some of the startups in Text Analytics area.
2009: MeshLabs
2010: LinguaSys
2011: Semantria, Luminoso, AYLIEN, Etuma
2012: Synapsify, ConveyAPI,SpazioDati,Contix,Signal Media
2013: WholeMeaning
2015: NomNom, Bitext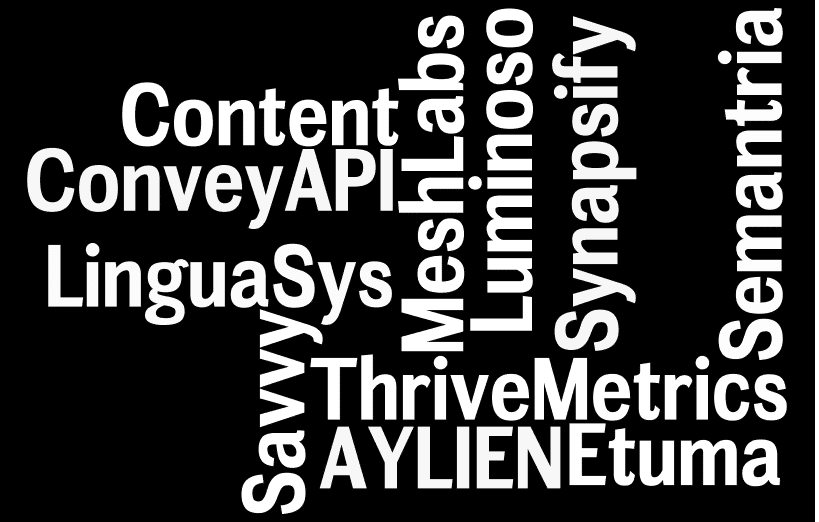 List of Text Analytics Startups
1.Semantria
Semantria is a cloud based text and sentiment analysis solution launched in 2011. The company is located in Amherst, MA. Semantria API is a SaaS RESTful Web API, providing text analytics, text mining, and sentiment analysis.
Semantria uses a modified version of Lexalytics Salience Engine 5.0 to enable the extraction of entities, concept topics, query topics, concept matrix, themes, summaries, and sentiment analysis. Semantria API currently supports English, French, Spanish, Portuguese and German. Semantria is located on Amazon EC2. The solution is easy to integrate REST API, Excel Add-in, and integration with Zapier, which connects this to over 160 web applications including Google Docs, Datasift, Zendesk, Twitter, Facebook, Salesforce, WordPress, and more.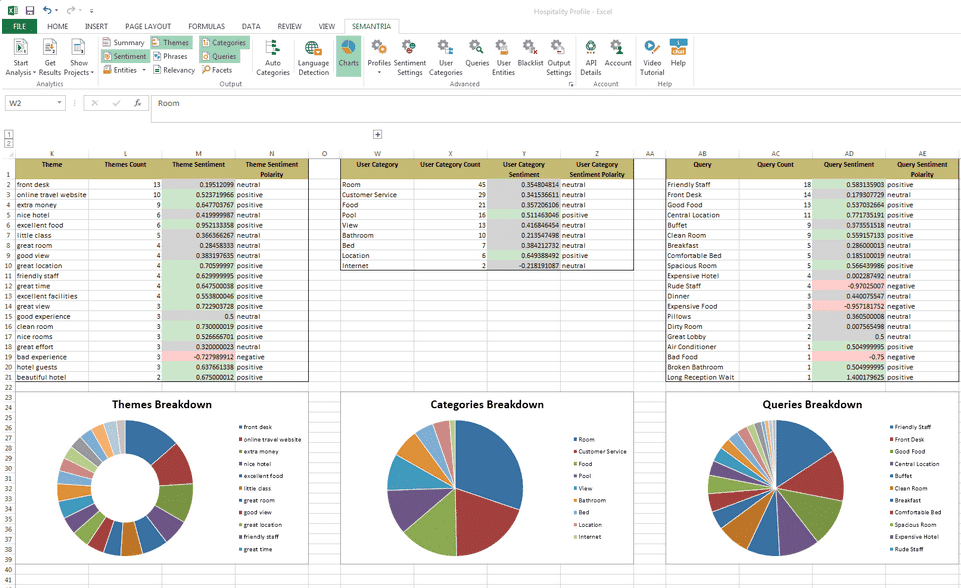 2. Synapsify
Based out of Bethesda, MD, Synapsify was founded in 2012. Synapsify API analyze multiple dimensions and intensities of phrase level emotions that are implied by the phonemes in text.It also analyzes for metaphor and narrative structure to give a complete analysis of text. Synapsify's RESTful API is based on a core set of linguistic algorithms, utilizing phonemics, natural language processing (NLP), machine learning. The API and Excel based reports give a complete rating of quotes and themes that are the most newsworthy and best represent the voice of the customer.
3. Luminoso
Luminoso is founded in 2011 and based out of Cambridge, MA. This proprietary conceptual engine which was born out of a decade's research at the MIT Media Lab analyzes vast quantities of text in seconds. Luminoso create categories based on what the text and analyze any form of unstructured text such as emails, news stories, research results, social media rants and identify the ideas, patterns, dot-connections, underlying themes, and buried intelligence. Luminoso's nuanced understanding gives decision makers new tools to act more quickly and intelligently.
4. AYLIEN
AYLIEN is based out of Dublin, Ireland and founded in 2011. AYLIEN provides Text Analytics API, publisher tools and consumer applications. APIs are designed to collect spectacular amounts of data, converting that data into simple, useful information. Publisher tools connect web publishers to their audience in exciting new ways, creating unprecedented levels of engagement.
5.ConveyAPI
Founded in 2012, ConveyAPI is a REST web service that provides programmatic access to a powerful text analytics engine. It utilizes natural language processing, statistical modeling and machine learning techniques to return content-specific annotations.
6.Etuma
Founded in 2011, Etuma's feedback analysis service provides details on what your customers are talking about, ranking discussions in order of intensity. This allows to choose when to take action in acute cases.
7.MeshLabs
Founded in 2009 , MeshLabs develops text analytics software to solve information management, customer experience, BI, and regulatory compliance problems.
8. LinguaSys
Founded in 2010 and based out of Boca Raton, FL , LinguaSys's natural language processing software provides real-time multilingual text analytics and fast, cost-effective natural language interfaces (NLUI). The solutions are powered by LinguaSys' Carabao Linguistic Virtual Machine.
9. SpazioDati
Founded in 2012, SpazioDati is building a high-quality knowledge-graph accessible via simple APIs.The graph contains both common sense knowledge and vertical domain data sourced from hundreds of open and proprietary datasets.
10. Contix
Founded in 2012, Contix finds differentiated news for traders and investors by analyzing over half a billion social and traditional media posts per day and sending real-time alerts containing the very earliest mentions of breaking financial news events.
11. Signal Media
Founded in 2012, Signal Media provides a media intelligence platform, enabling organisations to unearth actionable insights from the world's data. The large-scale text analytics system unlocks knowledge and insight from unstructured textual data.
12. WholeMeaning
Founded in 2013, WholeMeaning turns the growing amount of customer comments companies are receiving from many different sources into distilled user-specific insights to increase sales, reduce costs or generate loyal customers. WholeMeaning filters out all the irrelevant data and provides Actionable Insights that allow people to make well informed decisions.
13. NomNom
Founded in 2015, NomNom helps to get instant visibility on what customers are saying, all in one place. They make customer feedback easy to search, organize and share with team and also help to get insights faster by providing powerful analytics on unstructured data.
14. Bitext
Founded in 2015, Bitext cloud services help market research professionals and data scientists perform sentiment analysis, categorization and entity & concept extraction, easily and effectively. Bitext API offers Sentiment Analysis, Entity Extraction, Concept Extraction and Categorization. Bitext works on Aspect-Based Sentiment Analysis (also known as Topic-Based) which is currently available in 20+ languages.
You may also like to review the Text Analysis, Text Mining, Text Analytics proprietary software list:
Top software for Text Analysis, Text Mining, Text Analytics
You may also like to review the Text Analysis, Text Mining, Text Analytics freeware/open source list:
Top Free Software for Text Analysis, Text Mining, Text Analytics
You may also like to review the Top Free Qualitative Data Analysis Software software list:
Top Free Qualitative Data Analysis Software