Review
Lextree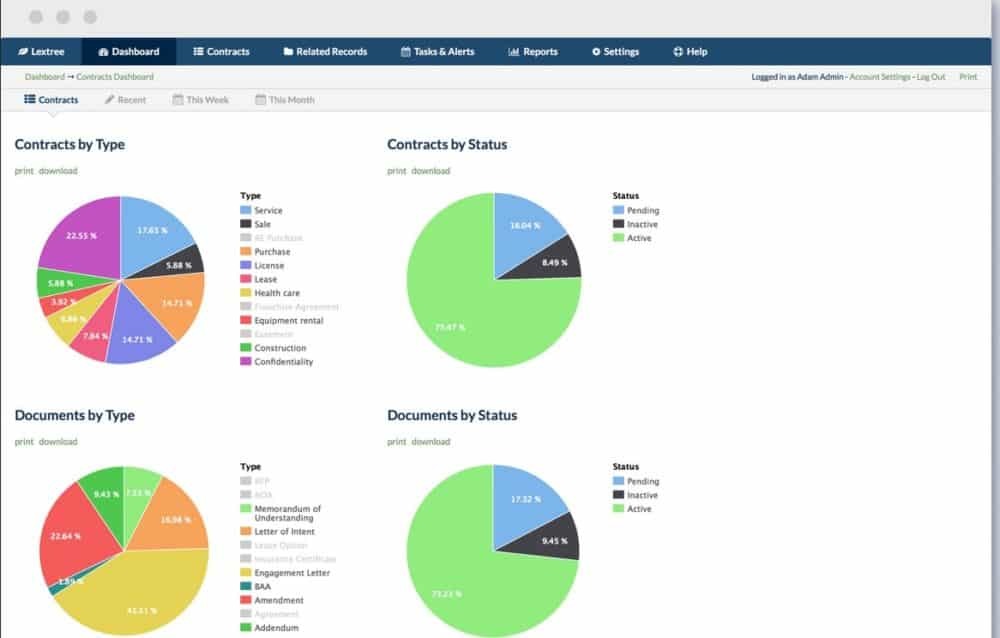 Overview
Lextree puts all of your contracts are in one place: the central repository. The repository is a snapshot of the most important contract details. You can filter and sort the repository any way you like. Export and print functions turn the repository into a powerful reporting tool. The repository is also responsive to each user's security profile.
Contract Lifecycle Management Software
Unlimited users
Unlimited alerts
25,000 records with more available
10 GB with more available
100% Web Based
Secure Access
Small (<50 employees), Medium (50 to 1000 Enterprise (>1001 employees)
Lextree offers clear solutions for legal data, dates and documents. Lextree allows its users to collaborate with unlimited users. Organizations can use custom security groups to control access to their critical legal data and documents. Lextree is 100% web based, users only need to connect with their browser to Lextree; there is no software that needs to be installed. Users receive automated alerts from tasks and due dates.
This means that users will never miss another legal deadline. And with its dynamic reports, Lextree provides its customers insight to their legal data and documents. Users of Lextree will gain insight to the latest developments in their contract portfolio. The dashboard provides its users a presentation of recent contracts and documents. The contract status display shows contracts as they progress through the approval workflow.
Print or download any of the dashboard elements to include in presentations. With unlimited users, users can manage the contract workflow in their organization. Assign the requester role to people who can initiate the contract process.
People in the organization with the approver role can reject or approve contracts. Editors have the power to modify important contract provisions. Users can also designate some people with read-only access. Administrators can also control settings within the application.Lextree is a cloud based contract management solution; users are free to focus on managing their contracts. Users still have control, they can add unlimited users, customize categories, security groups, and party types. Lextree for contract management is the clear solution for expirations, tasks and alerts, document management, workflow, and more.
You may like to read: Top Contract Lifecycle Management Software, Top Free Contract Management Software and How to Select the Best Contract Lifecycle Management Software for Your Business