Review
Legalesign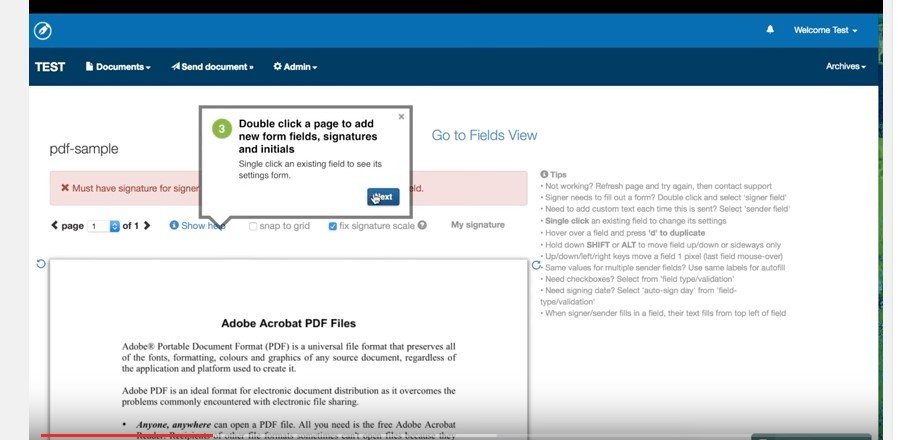 Overview
Legalesign is an online document management platform built around e-signature. Send, manage and get your business contracts signed online.
· Real-time document status updates
· Set up ready-made documents, then send to clients in a matter of seconds
· Super easy-to-use interface
· Responsive for mobile, tablet and desktop
· Clear listings
· Switch to timeline view for all events as they happen.
· Easily forward documents to another signer, optionally allow signer to forward
· Signing website guides signer through process to completion
· Bulk Send
Embed
Free trial available. Packages starting from $15. Contact for more pricing details.
Small (<50 employees), Medium (50 to 1000 Enterprise (>1001 employees)
Legalesign is online software that is used to manage the contract send and sign process. Your customers can e-sign your contracts from anywhere, which can help you to reduce costs and improve business productivity. Legalesign is used by many companies in the US and UK. It is a cost-effective product and you can even contact the vendor to discuss custom requirements for your company.
Legalesign has been tested and refined over thousands of interactions to deliver the best user experience. Leagalesign 's standard features include real-time listings and notifications, branding, permissions, and multi signers. PDFs are also certified with long term validation (LTV) to guarantee integrity and Legalesign provides good customer support and all customers are assigned an account manager. The user can make the most of the application to close contracts fast and have full control with easy supervision and management.
The user can quickly add existing text, Word, or PDF documents with full form-filling functionality. The user can use both single signer and multi-signer. This provides versatile options for different contract signing situations. Legalesign makes it easy for the user to keep track within the signing process through regular email notifications. The user can also control access and introduce a full range of permissions.
Legalesign is easily scalable to manage the growth or business change. Lastly, it also provides easy programmatic access through API. Legalesign minimises training time and admin. It has been tested and refined over 1000's of studied interactions for the best user experience. Additional features include: multi signers and workflows, users & permissions, company branding. So get Legalesign for a reliable e-signature programme that will help support any business.