Leadspace API Enables B2B Predictive Analytics in CRM & Marketing Platform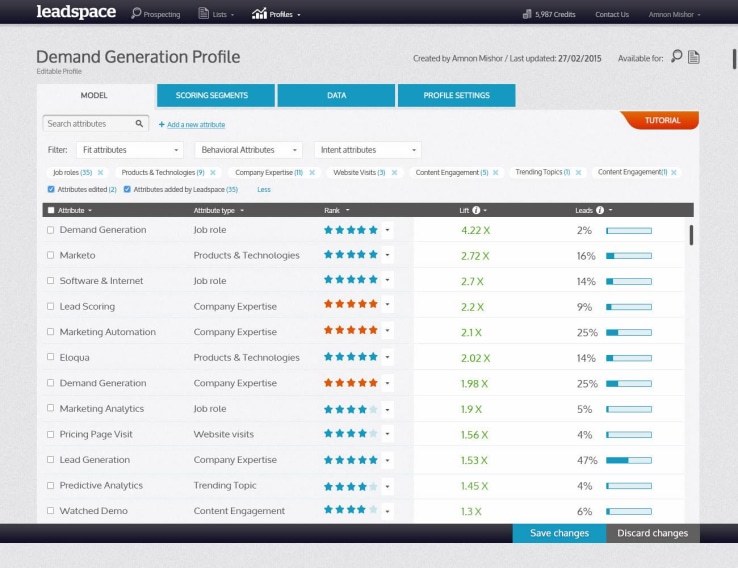 More and more B2B companies are using predictive analytics to transform their marketing and demand-generation activities, but many are treated as a standalone point solution. This lack of integration slows processes, makes them more complex and adds unnecessary layers to the marketing stack, reducing business impact.
The Leadspace API gives data-driven sales and marketing teams the ability to incorporate the company's industry-leading real-time data, lead enrichment and predictive scoring and make it actionable inside every major CRM and marketing automation platform. The Leadspace open API will power a new and exciting partnership, making Leadspace's predictive analytics and lead-to-account matching available in the Engagio account-based marketing platform.
"We partnered with Leadspace because their predictive analytics platform is the best way to connect people to accounts and understand the relationships among them," said Engagio co-founder Jon Miller. "Leadspace's lead-to-account matching helps overcome one of the main ABM roadblocks created when CRMs separate leads from accounts."
"We're very happy to have Engagio as a partner," said Leadspace CEO Doug Bewsher. "ABM is one of the most potentially-valuable developments in B2B marketing since the rise of inbound marketing. Jon and his team at Engagio are making great progress in helping companies take advantage of it."
Leadspace currently integrates with Salesforce, Marketo and Eloqua and is in beta with an integration solution for HubSpot. Pardot and Microsoft Dynamics connectivity is expected in the first quarter of next year.
Leadspace is a predictive analytics platform built from the individual up, leading to real actionability and dramatic improvements in B2B sales & marketing effectiveness. The Leadspace platform combines extensive social, web, intent and structured data to enrich, discover and score in real time both companies and individuals who have the greatest intent to buy