Review
Lead Connect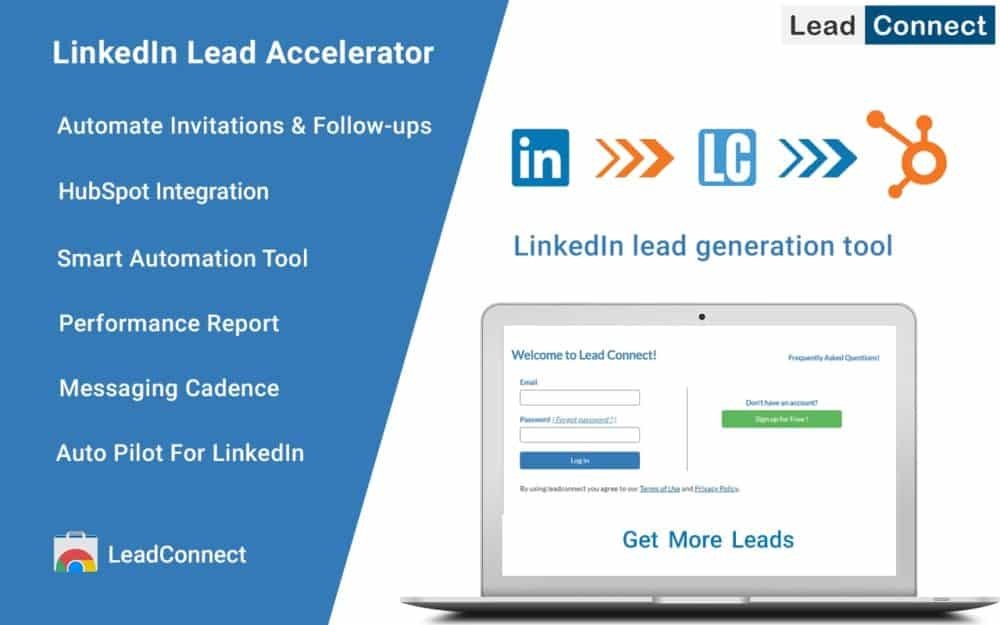 Overview
Lead Connect tool helps you to generate Quality Leads from LinkedIn. Simple searches in your field will reveal thousands of experts, service providers, and potential clients.
•Automated 1st Degree Cadence
•2nd & 3rd Connection message
•Hubspot CRM Integration
•Black-List, Team Sync
•Black-List Company
•Send up to 100 invitations per day
•Reach targeted leads on LinkedIn
•Time saver & Smart work
•FREE FOREVER - $ 0/Month
•PROFESSIONAL - $ 25.95/Month
•GROW - $ 45.95/Month
•ULTIMATE - $ 85.95/Month
What is best?
•Linkedin Outreach Automation Platform.
•Find targeted audience on LinkedIn
•Reach out to those audiences on LinkedIn
•Email Finder APIs Integrations
•Once they qualify as a prospect, you can push the lead to HubSpot CRM
What are the benefits?
•Automate your lead generation efforts with personalized multiple Followups.
•Sync prospect details to Hubspot automatically with a click.
Lead Connect - LinkedIn Outreach Platform, helps you to generate Quality Leads from LinkedIn. LinkedIn along with Lead Connect will help you to reach your targeted audience, send connection invitation and personalized follow-up messages just with a click.
Lead Connect fuel growth by transforming how businesses attract, engage and delight customers leveraging LinkedIn's a huge network. The all-in-one sales solution that helps small to medium sales teams save time at every stage of the funnel while growing their revenue.
Lead Connect provides integration with Hubspot CRM and that too just on a click. All the information regarding the prospect will be pushed to Hubspot CRM. Even if you want to find business emails of the prospect, Lead Connect gives you integration with many email finder API's like Any Mail Finder, Email Hunter, Find that Lead and many more.
You may like to read: How to Select the Best Campaign and Lead Management Software for Your Business, Top Campaign and Lead Management Software, Top Lead Intelligence & Lead Mining Software, Top Lead Capture Software and Top Predictive Lead Scoring Software
Lead Connect Features
Automated 1st Degree Cadence
2nd & 3rd Connection message
Hubspot CRM Integration
Black-List, Team Sync
Black-List Company
Send up to 100 invitations per day
Reach targeted leads on LinkedIn
Lead Connect Pricing
PROFESSIONAL -
$ 25.95/Month