Lavastorm release Enables Analysts to Show and Share Data Flows to Accelerate Trusted Data Insights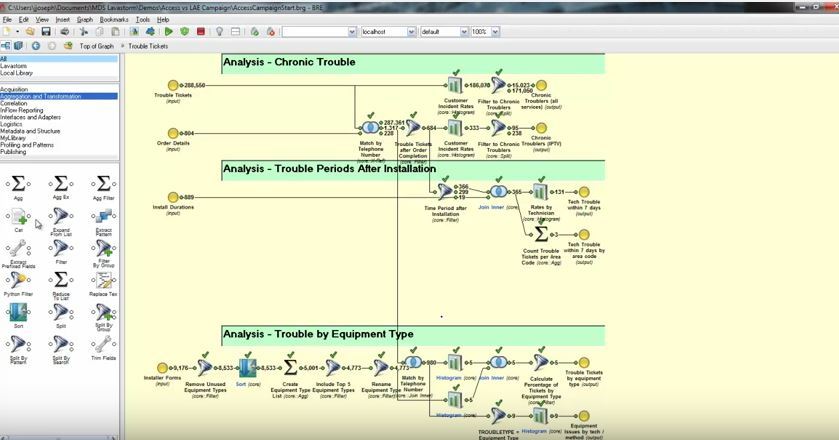 Lavastorm release Enables Analysts to Show and Share Data Flows to Accelerate Trusted Data Insights : Lavastorm Analytics, a leading data preparation and advanced analytics company, launched Lavastorm Analytics Engine (LAE) 6.1, which builds upon the product's core capabilities of delivering proven self-service software to the enterprise. The new release provides a seamless way of sharing governed analytical flows that can be viewed from anywhere via a browser to accelerate business insights and promote data confidence. "Lavastorm provides business analysts with a powerful, yet agile tool to not only accelerate their time to get to an answer, but also get to the right answer fast," said Drew Rockwell, Chief Executive Office of Lavastorm Analytics. "Collaboration, getting more eyes on the problem, especially people in the business with contextual knowledge of the data, is also a key component to speeding time to insights. With LAE 6.1, Lavastorm's capabilities to show and share analytical data flows and understand the business logic that was applied at each step, is unparalleled in the self-service industry."
With the introduction of LAE 6.1, Lavastorm enables sharing of analytic flows from anywhere, even on-the-go, without installing any software. The new software also ensures that data sharing is appropriately governed and in compliance with corporate security policies.
Product Features Include Governed Data Discovery, Collaboration, and Traceability. Allows business analysts to curate a set of re-usable analytical applications with trusted data and business logic, and then share those analytical flows with specific users or groups across an organization. View and execute analytic applications shared in a single, easy-to-use directory via any web browser. Ability to follow data flows throughout the analytic application to identify the data source and manipulations that were performed, thus leading to greater trust in your data. Also allows users to re-run analytic applications with current data or view historical runs.
"In most organizations, there is a black box around the data, therefore when the resulting analytics reach the consumer in the business, these reports or dashboards are typically severed from the source data and business rules that created them, thus limiting transparency and confidence," said Mark Marinelli, Chief Technology Officer of Lavastorm Analytics. "Lavastorm has opened that black box, allowing analysts to share data flows with others across the business to ultimately arrive at a single truth that leads to more informed decisions."
You may also like to read, Predictive Analytics Free Software, Top Predictive Analytics Software, Predictive Analytics Software API, Top Free Data Mining Software, Top Data Mining Software,and Data Ingestion Tools.
Top Predictive Lead Scoring Software, Top Artificial Intelligence Platforms, Top Predictive Pricing Platforms,and Top Artificial Neural Network Software, and Customer Churn, Renew, Upsell, Cross Sell Software Tools
More Information on Predictive Analysis Process
For more information of predictive analytics process, please review the overview of each components in the predictive analytics process: data collection (data mining), data analysis, statistical analysis, predictive modeling and predictive model deployment.